UIndy hosts national geriatric PT conference
More than 150 health and gerontology professionals from the U.S., the U.K., Canada and Australia are on the UIndy campus today through Saturday for ExPAAC II, a conference on exercise, physical activity and aging presented by the national Academy of Geriatric Physical Therapy.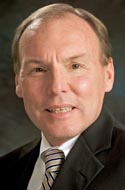 The event gives physical therapy practitioners the knowledge and tools they need to help the growing population of older adults achieve maximum function and independence.
UIndy, home to the College of Health Sciences and the Center for Aging & Community, makes a logical host site. Dr. William Staples, associate professor in UIndy's Krannert School of Physical Therapy, is president of the Academy of Geriatric Physical Therapy, a division of the American Physical Therapy Association. Dr. Stephanie Kelly, dean of the College of Health Sciences, welcomed the attendees this morning. Dr. Stephanie Combs-Miller, director of research for the Krannert School of Physical Therapy, is among the presenters.
"It is an exciting time for the academy to educate our members about the importance of physical activity for older adults and the direction that our profession is progressing," Staples said. "Geriatric practice is growing, and we hope to bring inspiring people together to ensure we keep practitioners on the cutting edge."
Keynote speakers include Kathleen Cameron, senior director of the National Council on Aging's National Falls Prevention Resource Center, and Howard Friedman, author of The Longevity Project.