Ceremony celebrates new UIndy apartments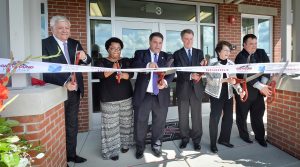 Cutting the ribbon at Greyhound Village on Thursday morning are (from left) Strategic Capital Partners CEO Gene Zink, UIndy student Erin Jackson, UIndy President Robert Manuel, Indianapolis Mayor Joe Hogsett, UIndy Board of Trustees Chair Yvonne Shaheen and University Chaplain Jeremiah Gibbs.
News coverage:
WTHR
WISH
Inside Indiana Business
More photos: UIndy Facebook
UIndy's new Greyhound Village represents not just the cutting edge of student housing, but also the new potential of Indianapolis' Shelby Street corridor, speakers agreed Thursday at the dedication ceremony for the four-story, 486-resident campus apartment building.
"Projects like this one have the power to be transformational, not just for this university — although I know it will be — it is transformational for our entire city," said Mayor Joe Hogsett. "This expansion of UIndy housing can build on the momentum we've seen throughout Indianapolis by attracting new residents to the surrounding area, by encouraging small business to expand and to embolden future development."
He and UIndy President Robert Manuel noted the revitalization taking place in the Fountain Square and Garfield Park neighborhoods just a couple miles north of the new apartments. The University Heights neighborhood around campus can expect that same economic growth in the coming years, they said, especially with the planned Red Line bus rapid transit route following Shelby Street to UIndy, with a station adjacent to Greyhound Village.
"I'm grateful that our elected officials, including the Mayor's Office, have been supportive of bringing in amenities like the Red Line to help us grow, and we will see those benefits over time," Manuel said. "The most exciting part of this dream is that it benefits the university and it benefits the community. … When you see the quality of life improve in the area where we reside, the educational value to our students and the experience they have will also rise."
Manuel displayed a large aerial photo of the immediate vicinity, pointing out the potential for new academic buildings and mixed-use development around the intersection of Shelby Street and Hanna Avenue. Another possibility is the renovation of the former Shelby Bowl bowling alley into a restaurant or brew pub.
Also speaking at the event were CEO Gene Zink of Strategic Capital Partners, which developed the apartment project in a joint venture with the university; civic leader Yvonne Shaheen, chair of the UIndy Board of Trustees; and graduate student Erin Jackson, who will serve as a residence advisor in Greyhound Village.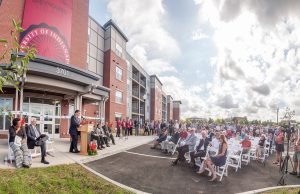 UIndy students, faculty, staff, partners, friends, neighbors and local media gathered Thursday for the dedication of the four-story Greyhound Village apartments.