Special screening of "The Burden" with filmmaker Roger Sorkin and former Indianapolis Mayor Greg Ballard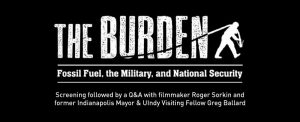 Thursday, November 3, at 7 p.m.
UIndy Hall A, Schwitzer Student Center
Reception will immediately follow

Join us for our next University Series event featuring a special screening of "The Burden" followed by a Q&A with filmmaker Roger Sorkin and former Indianapolis Mayor and UIndy Visiting Fellow Greg Ballard.
"The Burden" is a 40-minute documentary that tells the story of fossil fuel dependence as our greatest long-term national security threat, and why the military is leading the transition to clean energy. The film also focuses on the amount of American military lives lost fighting to protect oil interests in the Middle East.
This free event is open to the public and L/P credit is available to UIndy students. Online registration is requested.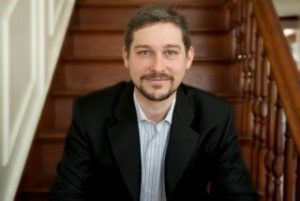 Roger Sorkin, a graduate of Stanford University's Documentary Film and Video Program, is an award-winning filmmaker and a fellow with the Truman National Security Project. Since 2002, his production company, Sorkin Productions LLC, has created films and political advertising campaigns for non-profit organizations, academic institutions, government and corporate clients including the U.S. Global Leadership Coalition, the U.S. Department of State, the U.S. Army, Center for U.S. Global Engagement, and International Foundation for Electoral Systems among others.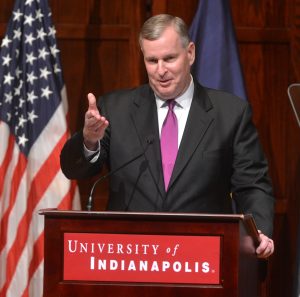 Gregory A. Ballard served as the 48th Mayor of Indianapolis for two terms after serving 23 years in the U.S. Marine Corps. While in office, he became a national leader on issues such as energy, clean water, hunger and education reform. Recently, he joined UIndy as a Visiting Fellow of the Institute for Civic Leadership & Mayoral Archives. His work has focused on themes that marked his years in office to impact quality of life in urban areas, including clean-energy solutions to public needs, new approaches to urban transportation and the value of global perspective and international collaboration.