Local spider discovery provides leg up to new science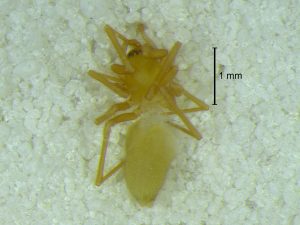 Nearby Indiana forests could be home to a whole host of undiscovered life forms just like the new species of spider discovered recently by a University of Indianapolis biology professor.
"New (spider) species are being found all the time. I typically find one to two a year, but the message is that we really know nothing about the diversity of species living right here in Indiana," said Dr. Marc Milne, the self-described "spider guy" on campus.
The tiny, female arachnid is tentatively known only by the genus name of Oreonetides. Since it was first collected in May 2015 in Johnson County, Ind., Milne and other spider experts across the country have been unable to find a comparable species, and the search now begins to find a male variety.
The orangey spider is best viewed through a microscope, measuring in at a mere 2.5 millimeters. Distinguishing spiders of this size is a challenge, and scientists often contact Milne for his expertise to make a determination. Body characteristics such as size, the location of specific hairs and the position of their eyes make a big difference.
What is known, according to Milne, is the new specimen belongs to a family of sheet web spiders that like to live on and under leaves and make their webs across blades of grass.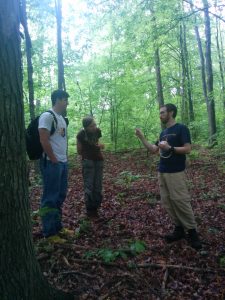 The idea of another microscopic spider crawling around can unnerve some (it's completely harmless), but Milne is energized by the discovery. In fact, it's not unusual for him to spend his weekends setting spider traps in local woodlands and returning to his lab with a pile of leaves he hopes will continue to push his research.
"If you don't spend the time to look for these new species, you don't find it. Unfortunately, not enough people are looking," he said.
The Glaciers End Nature Preserve, part of the Central Indiana Land Trust in nearby Johnson County, could hold many undiscovered scientific treasures like Oreonetides. Glaciers never fully covered the landscape in this area, and life there has proven to be much more diverse than other parts of the state. Milne also discovered new spider species in nearby Morgan and Monroe counties. The Land Trust plans to open Glaciers End to the public in 2018.
"More attention should be paid to the level of species diversity that is around us," he said. "Before we go to clear a piece of land, we should fully know what exists there."
He estimated there could be up to 600 species of spiders in Indiana, yet thus far only about 450 have been discovered. The unknown is what continues to draw Milne to the forest, as does the excitement of opening the eyes of his students to the world around them.
"Being able to experience this with my students is particularly rewarding," he said. "They realize they can do something to push the boundaries of science and they can do that now, as an undergraduate at UIndy."