Sociology professor weighs in on sin across America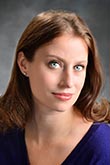 Indianapolis doesn't break the list of the top 50 most sinful cities in America, but defining bad behavior can vary greatly across the country, according to a recent study posted to WalletHub.com.
UIndy's Dr. Amanda Miller, associate professor of sociology, was one of several experts polled in the study as it looked at people behaving badly in the 150 most populated U.S. cities. The study ranked cities in categories ranging from "excessive drinking" to "violent crimes per capita" and asked several academics to help explain why some behavior is viewed more negatively based on local culture.
As the results indicate, not all American vices are created equally. Read the full article.