University of Indianapolis provost office hosts mock crime scene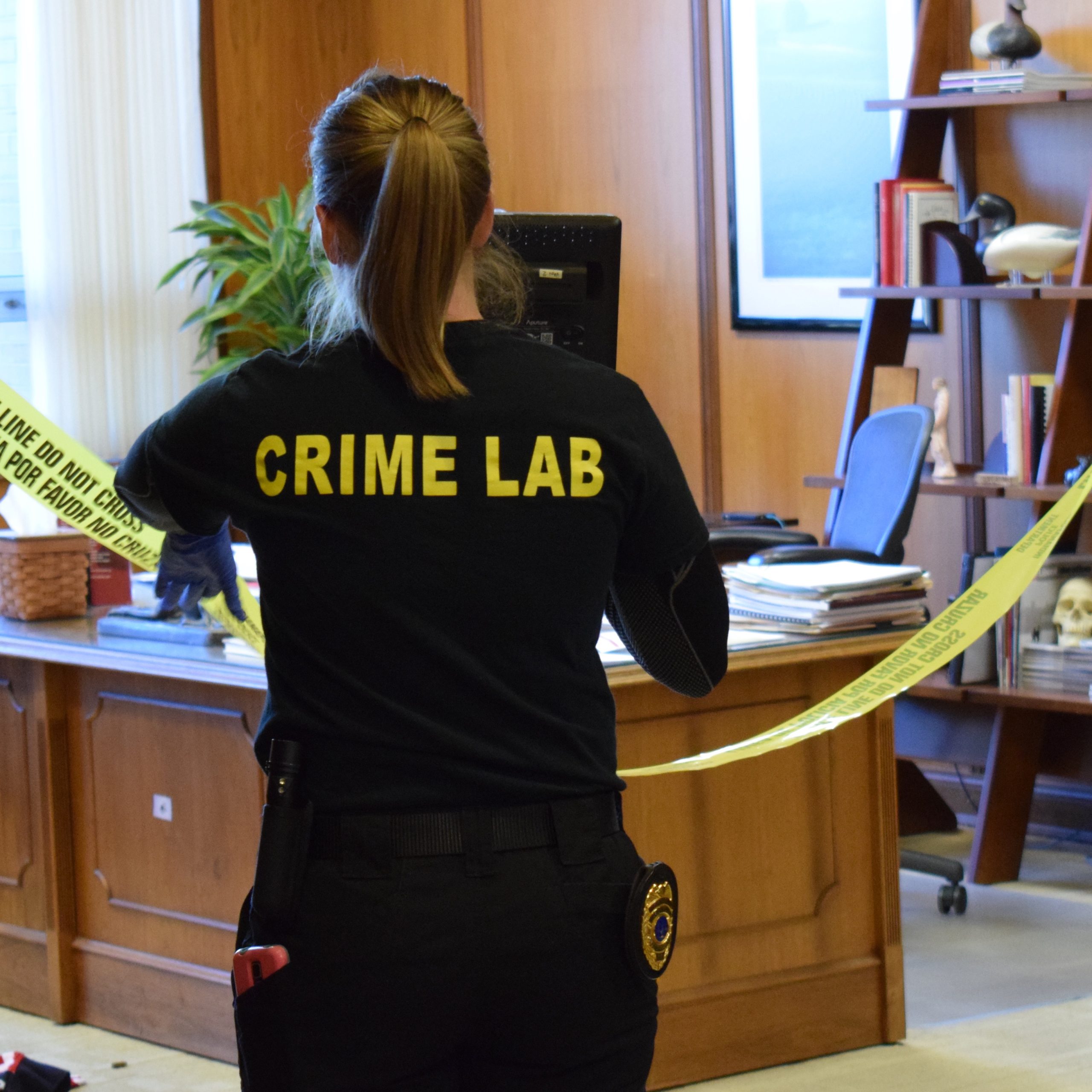 The University of Indianapolis Provost Office was the scene of a "crime" recently as the Indianapolis-Marion County Forensic Services Agency (IMCFSA) trained a new forensic scientist and provided a real-life learning experience for criminology students.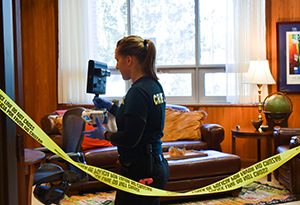 To the untrained eye, it might have been a disturbing sight: blood spatter, bullet holes – and even a dummy murder victim, "shot" to death and slumped behind a chair. The staged scene was all part of the IMCFSA's training exercise, conducted in partnership with UIndy's Department of Sociology and Criminal Justice, designed to prepare novice crime scene technicians for the real thing.

"We've taken over the provost's office, pretty much," said Christine Ondek, supervisor of Marion County's Crime Scene Unit. "It's an extremely nice office, too. I felt bad throwing evidence around here!"
The training exercise involved 35 pieces of evidence. The trainee was assessed on every step, from the interview with the detective to crime scene video and other observations. The exercise was the culmination of four months of training, and the fourth and final mock crime scene before the trainee is sent out to process real crime scenes.
Starting in 2018, the University of Indianapolis will offer a Crime Scene Investigation (CSI) track for criminal justice majors to meet growing demand in forensic science careers. The program was developed in consultation with IMCFSA Director Mike Medler and staff, said Associate Professor Kevin Whiteacre, chair of the Department of Sociology and Criminal Justice. The CSI track ensures graduates will meet IMCFSA's accreditation requirements for hiring crime scene techs.
Whiteacre, who teaches criminal justice, says there is growing interest in the field because "the natural sciences are becoming a larger part of criminal justice, and there is an increasing expectation from judges and juries for more analysis of physical evidence."
The U.S. Bureau of Labor Statistics predicts the forensic science field will grow by more than 24 percent over the next eight years. "It's a growing field," Whiteacre added, explaining that while non-sworn civilians can become crime scene technicians, a sworn officer in a smaller community may also have to play that additional role.
Several UIndy students came to observe the mock investigation throughout the day, including Anthony Castel, a freshman graphic design major and chemistry minor.
"I'm really interested in both forensic art and crime scene investigation, so ideally I want to learn the tools of the trade," said Castel, who is studying to become a forensic artist.
Interest in forensic science has spiked due to the popularity of television shows like CSI, Bones and others. But while those fictional dramas may spark curiosity, Ondek says the reality is much different.
"People don't realize how long we're out on crime scenes. This crime scene is probably going to take her seven hours to complete. On a TV show, it's done in half an hour and it's solved and we have the guy in custody. Things just don't happen like that," she said.
Ondek leads a team of 11, but the crime lab is looking to hire several more by the summer. "Our staff is really overworked, so to be able to have an extra set of hands out there helping us is extremely important," she said.