Dollars and $ense teaches teens new perspective on finances

A financial literacy program at the University of Indianapolis aims to teach young adults not just how to manage their money, but how to understand its value. Dollars and $ense, a partnership between UIndy and 100 Black Men of Indianapolis, has educated hundreds of students since its debut in 2002.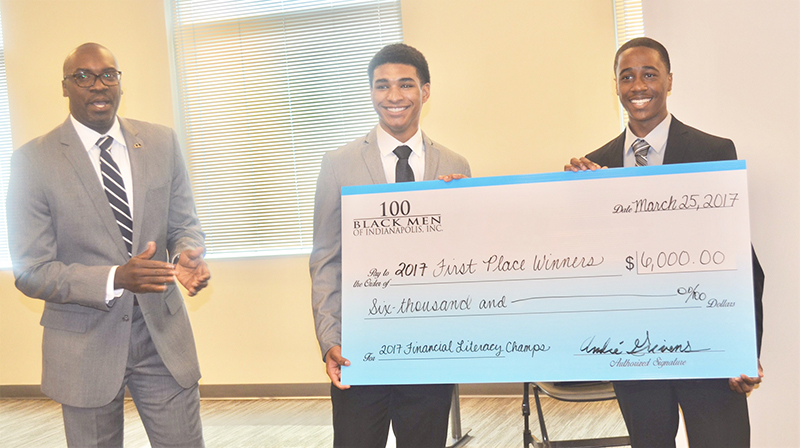 Andre Givens, who is the chairman of Dollars and $ense, has been volunteering with the program since 2005. That's when he joined 100 Black Men of Indianapolis, a youth development organization that serves Indianapolis youth annually through mentoring-based educational programs.
The organization held its 15th Annual Financial Literacy Investment Competition on March 25, when students competed for first-place rankings and scholarship awards. The UIndy Dollars and $ense first place team won $6,000 in scholarships to any accredited college institution.

It was the culmination of months of training to boost students' knowledge in investment strategies, asset allocation and diversification through the selection of stocks, bonds and real estate investment trusts.

"This program is designed to change teens' perception about money. That's one thing I want to ensure we incorporate into the program, because students in our communities do not understand the value of the dollar," said Givens, who holds an MBA in business from UIndy.
When he's not volunteering, Givens serves as the director of undergraduate enterprises and engagement for UIndy's Department of Business. Department Chair Matt Will encouraged Givens to join the Dollars and $ense program.
"One of the highlights of my career at UIndy was recruiting Andre to join UIndy. Having worked with him in the Dollars and $ense program, I knew he would be a tremendous asset to the School of Business," said Will, who created the original Dollars and $ense program with Murvin Enders, a member of the UIndy Board of Trustees.
Givens started off without much personal knowledge about investments, which challenged him to learn more and inspired him to teach others in the program. "That was huge for me because as a result of that program, and meeting Matt, I found a passion for investments," Givens said.
Dollars and $ense focuses on teaching students the basics about money management, like saving for emergencies. Instructors then take students beyond those basics to explain components of investing, including the stock market, securities and other types of investments.
Givens and other mentors make their lessons relatable by zeroing in on the topics that engage students. Fashion is one example that stood out. He mentioned how some students suddenly perk up when talking about the latest Air Jordans or popular clothing lines like True Religion or Balmain, which sell jeans for as much as $1,500 – well out of the range of most household budgets.
It's an opportunity to discuss not just the impact on individual finances but also how those businesses make money. "Once we show them the math and they see there is a way out, honestly that's where the difference is made bridging the wealth gap," said Givens.
Dollars and $ense participants pick up the knowledge quickly.  Givens said watching his students' perceptions change is the most rewarding aspect of the program.
"That's where you feel the goosebumps," he said, recalling a student who told him, "'I had the chance to buy those Air Jordans, but I saved the money instead.' That's what we want to hear."
Givens points to several positive outcomes for students who've completed the program, including executive positions with Lilly and an acquisition portfolio manager position at JP Morgan.
"Our motto is changing one student at a time. You see the mindsets adjusting and behavior switching. It's truly a blessing to see those outcomes," he added.
Up next for Givens is preparation for the National Dollars and $ense Competition on June 8th in New Orleans, La., where Indianapolis won Nationals in 2013.
About the competition
The 15th Annual Financial Literacy Dollars and $ense Investment Competition was held on Saturday, March 25th at IU Fairbanks Hall. Eight teams presented a five-minute investment portfolio to a panel of judges, comprised of executives from the National Bank of Indianapolis and State Farm Insurance. The UIndy 1st place team won $6,000 in scholarship awards to any accredited college institution.  One of the 1st place students, Jalen Williams, is a sophomore basketball player for Charles Tinley High School. His team also won the Class A State Championship over Lafayette Central Catholic the same day.  Jalen decided compete in the Dollars & $ense competition instead of playing in the state championship game on Saturday.