Chemistry professor finishes marathons in all 50 states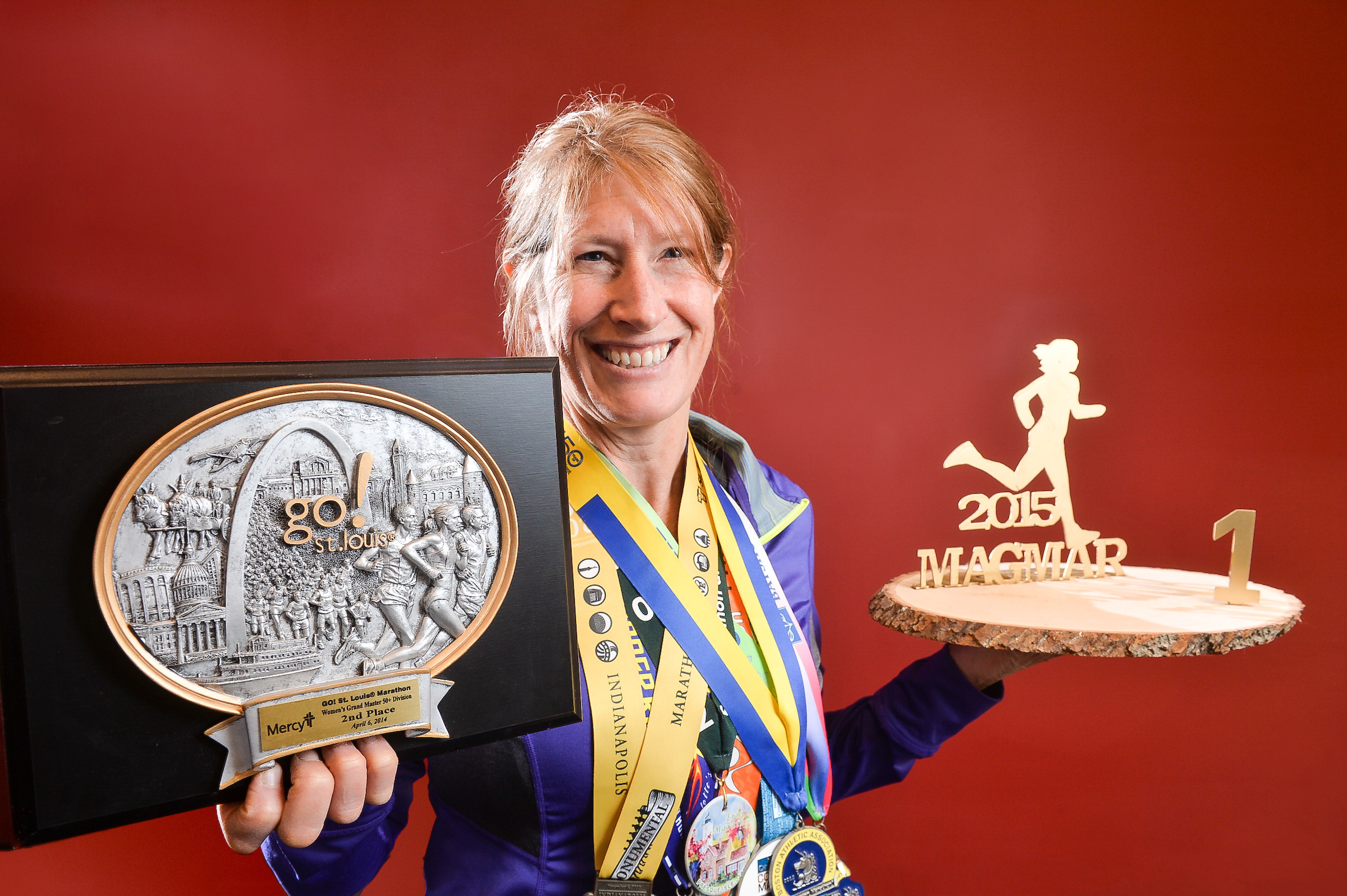 Don't be surprised if you run into chemistry professor Kathy Stickney on campus—literally.
After finishing the LOCO marathon in Newmarket, N.H., last year, Stickney became a member of an elite group of runners – fewer than 1,300 – who each have completed a 26.2-mile marathon run in each of the 50 states.
Stickney hasn't always been a marathoner. Her journey began in 2010, when she signed up for a training class and completed her first half-marathon in Indianapolis. She found much of her inspiration from former UIndy cross country coach Tom Hathaway '54. Hathaway was an iconic figure in the central Indiana running community. He was a UIndy student-athlete who went on to become a marathoner, a mentor to many running enthusiasts and a championship cross-country coach at the high school and college levels.

"After I had met my goal time for the half-marathon, Coach Hathaway said it was time to look for a bigger goal," Stickney said. "For the next race, I upgraded from the half-marathon to the full-marathon and completed the run with a Boston Marathon qualifying time."
In 2012, Hathaway passed away and Stickney was inspired to set an even bigger goal – complete a marathon in all 50 states. She began running around the country, completing approximately one marathon each month. Five years later she found herself completing her goal and honoring Hathaway's memory.
Running this many races can be tricky when balancing a teaching schedule, but her students and colleagues have been supportive from the start. One of her former students, Courtney (Raypole) Bumbaugh '13, even created a jigsaw puzzle map of the country to help Stickney keep track of her accomplishments.
"She has helped me with not only classes, but has been there as a great advisor, professor and friend," says chemistry major Madeleine Leger. "We can always tell whenever she didn't do her morning run. She gets extra energetic in class, and suddenly chemical reactions are more exciting than ever before."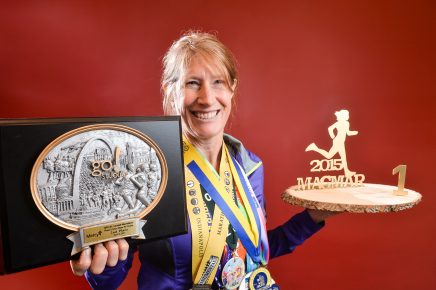 While Stickney has reached her goal, she is thinking about adding to the goal by running the marathons in all states in a specific time. "Of the 50 states, I've ran 38 of them in less than four hours. I'm looking to repeat the 12 states with a better time," Stickney said. She's achieved top finishes for her age group in many of the marathons, earning her beautiful prizes and race mementos. [Editor's note: Since interviewing Stickney, she has run a marathon in Las, Vegas, Nev., and now has 39 states under her four-hour goal.]
So how does she choose which marathons to run? She likes the smaller races, fewer than 1,000 runners that are organized by local running clubs. Stickney also recommends picking races with easy traveling logistics.
"Running has become a strong positive factor in my life. It gives me time to reflect, keeps me healthy and focused, and helps me understand the time pressures my students are under as they try to balance their own academic life with all of their responsibilities," says Stickney. "And every time someone tells me that I've inspired them to start their own weight loss and fitness journey, I feel as if I've helped to make a positive change in someone else's life."  
Ready to run? Stickney sponsors the annual Hound Hustle 5K as part of UIndy's Homecoming. This year's family-friendly run will be held on September 30 and registration will be open later this summer.
Written by Jen Zentz, Social Media Community Manager, University of Indianapolis. Contact newsdesk@UIndy.edu with your campus news.