Master craftsman Marc Adams to receive UIndy honorary degree

Marc Adams '81, a master craftsman who founded the Marc Adams School of Woodworking, is one of three alumni chosen to receive an honorary degree during May Commencement at the University of Indianapolis. Dr. Katherine Welch and Kenneth "Doc" Borden are also being honored. 

Adams is recognized worldwide as one of the leading voices in woodworking, and the Marc Adams School of Woodworking in Whiteland, Ind., is one of the top training grounds in North America.

Adams said he was humbled to be chosen as an honorary degree recipient. "I'm just another guy who works hard at what he does. It was a shock for me and a surprise but an incredible honor," he said.
Adams' goals as a teenager were to teach, coach and become a youth minister. His career path took several rewarding turns, and he ultimately would fulfill his dreams in ways he couldn't imagine.
After obtaining an athletics scholarship to attend the University of Indianapolis, where he received his bachelor's degree in education, he went on to pursue a master's degree in sports medicine at IUPUI. During that time, he and his father, a hobbyist who loved to work with wood, bought a "Shopsmith," which is an all-in-one woodworking tool. But his father died tragically the day after they received the equipment.
What happened next would be the first of several key turning points in Adams' life. He decided to drop sports medicine to pursue his newfound love of woodworking.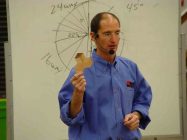 "With no business or woodworking experience, I decided to keep the machine not to go into business but to have something to remember by Dad by. Before I knew it, I was in the shop every waking moment," Adams explained.
That passion quickly blossomed into the largest custom woodworking shop in Indiana by the late 1980s as Adams invested in equipment and employees.
His success led to a consultant role for the International Furniture Quality of Standards, which sent him around the world to lecture. While on the lecture circuit, he came to understand that he had a passion for teaching as well as woodworking.

"I was so busy managing a business that I failed to realize the importance of what I really wanted to do," said Adams. He decided to sell his business and start a school. Now people from across the globe travel to the Marc Adams School of Woodworking to attend workshops and courses.
Adams credits his experience at the University of Indianapolis as essential in providing him with the ability to set goals and objectives, among other skills. "The learning that took place at UIndy literally caused me to grow up and to become what I am today. I truly do trace that back to my college experience," he said.
"I'm a teacher, I do what I love to do and in the process of doing that, I've been able to connect and work with hundreds of thousands of people, teaching them how to do things with their eyes, their hands and their hearts," said Adams.
Adams hopes to be remembered as a difference maker.  That goal ties into his advice for the class of 2017.
"We are all called to serve in one way or another. I find that if you are willing to work hard, commit to your dreams and live daily with a servant's heart that success will follow you all the days of your life," Adams said.