UIndy professor's artwork welcomes race fans to Indianapolis

As downtown Indianapolis welcomes thousands of race fans leading up to the Indianapolis 500, the talent of Katherine Fries, art faculty at the University of Indianapolis, will be showcased on the Indianapolis ArtsGarden.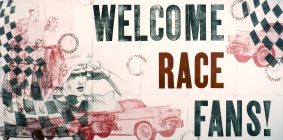 Fries, assistant professor of art and design at the University, is one of five local artists commissioned to create signs welcoming fans to Indianapolis at locations across the city. The project connects Indianapolis' thriving arts culture with the historic Indianapolis 500 and celebrates the history, culture and excitement of the month of May.

"This is a great example of showing my students one way of getting your artwork out into the broader community – to have it smack dab in the middle of downtown! This was a nice serendipitous occurrence for me to share with them," said Fries, both an alumnae and faculty at the University of Indianapolis.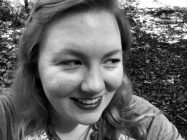 Fries has expertise in printmaking, including the historic art of letterpress, and her work is prominently displayed on the exterior of the Indianapolis ArtsGarden, at Washington and Illinois Streets. All five pieces will move to the famed Pagoda at the Indianapolis Motor Speedway before the May 28 race.
Nearly 300,000 people are expected to attend the "Greatest Spectacle in Racing," the top tourist attraction each year for Indianapolis and the highlight of the racing world.
Fries' "Welcome Race Fans" poster successfully blends a personal touch with IMS history. It features a letterpress cut of a pace car with images of a couple looking off into the distance. While the poster is visually compelling in its own right, each element carries its own story that adds depth to the piece.
As she began searching for a historic letterpress cut for the project, she found a piece that featured a vintage car. 

"I didn't know it when I purchased it, but on closer inspection, it was the pace car from 1954. That's when my grandparents were married," she said.
And the couple who appear to be spectators in Fries' piece? They would be Fries' grandparents, standing next to her great aunt.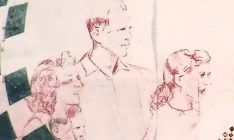 "It looked so much like they were spectators that it just all melded together," Fries said.
Fries, who organized the Letterpress Hullaballoo exhibit at the Christel DeHaan Fine Arts Center Gallery earlier this year, offers printmaking courses at the University, including letterpress work.
"I love the idea that objects are the only thing that's a true time traveler, because we come and go but they can be passed on from generation to generation," she said. "People have been printing on some of this type for 100 years or more, and it's really cool to think you're a part of this lasting legacy."


Free posters representing all five artworks are available while supplies last. See a list of locations here.
Written by Sara Galer, Senior Communications Specialist, University of Indianapolis. Contact newsdesk@UIndy.edu with your campus news.