International Education Month highlights global diversity at the University of Indianapolis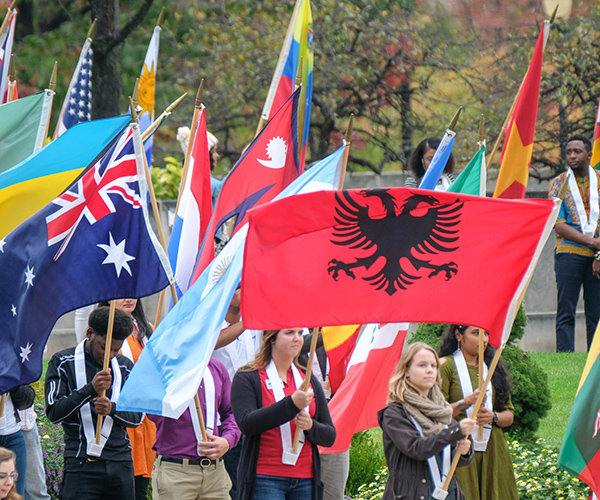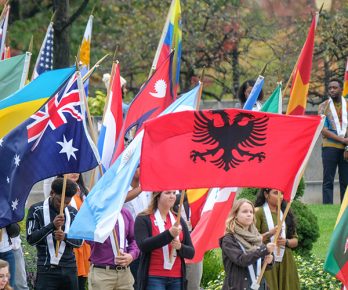 The University of Indianapolis will celebrate in October the first annual International Education Month, highlighting the diverse, multicultural resources on the campus and in the community. Lectures, films, musical performances and panelist discussions offer multiple opportunities to engage with international and diverse perspectives. All events are free and open to the public.
"The University of Indianapolis enjoys a rich tradition of welcoming and embracing different cultures and nationalities," said Stephen Kolison, Jr., provost. "By hosting this inaugural initiative, we can celebrate the wonderful advantages this diverse campus community provides our students, staff and faculty–as well as our entire region."
A variety of events throughout the month provides the opportunity to engage with internationally-themed events, including art, music, poetry, film, special guest speakers and forums. The "Cultural Competence: Return on Investment Forum" on Oct. 5 invites employers to discuss the value of a diverse and multicultural workforce.
"We want to bring awareness, both on and off campus, to the importance of understanding culture," said organizer Phylis Lan Lin, professor of sociology and associate vice president for international partnerships. Lin noted how exposure to new cultures and study-abroad experience can be an asset in the job search process.
Indianapolis Mayor Joe Hogsett is tentatively scheduled on Oct. 5 to present a proclamation declaring October International Education Month at the forum. He noted the University's contributions to multicultural educational opportunities.
"We take pride in the fact that UIndy is a truly international community and has extensive international relationships," Mayor Hogsett stated in a congratulatory letter, noting the University's partnerships in Asia.
International Education Month highlights include the West Meets East Concert on Oct. 8 at the Ruth Lilly Performance Hall in the Christel DeHaan Fine Arts Center, featuring world-renowned musicians from Indianapolis, New York and Shanghai, including UIndy music faculty.
The Celebration of Flags on Oct. 12 is a University tradition that honors the many nations represented by students, faculty and staff. An International Expo will follow the celebration to showcase the University's international engagement, language classes, study-abroad offerings and volunteer opportunities.
"We're especially focused on creating opportunities for domestic students to engage with international people and initiatives on campus, and give international community on campus a chance to share their cultures," said Karen Newman, assistant professor of English and one of several event organizers.