UIndy Family Weekend: Catching up with the Brunnemers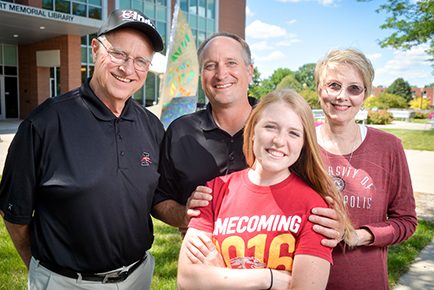 UIndy Family Weekend is a time to celebrate the connections that the University of Indianapolis brings to life. Jim '66 and Lou Brunnemer '69 recently celebrated their 50th wedding anniversary, and the couple reflected on the role of the University in their lives.
"She was a freshman and I was a senior. I saw her walking across the stage in this little skit, and I thought that was a girl I wanted to date!" Jim said.
Jim and Lou's son Kyle Brunnemer '92 was a two-year All-American in golf at UIndy before becoming a golf professional. His daughter, Julia Brunnemer '19, is majoring in public health.
Jim served the University for 21 years with positions as director of alumni relations and vice president for development before retiring in 2000. As part of the fundraising team during a significant period of growth for the University, Jim noted the changes he helped to facilitate, along with University leadership.

"We took the parking lot out of the middle of campus, built the Christel DeHaan Fine Arts Center, and Martin Hall. It was satisfying to see that happen. It's been amazing to see the changes on campus. I'm very proud of the staff here and the presidents who have led the way," he said.
Both Kyle and his daughter were drawn to UIndy not just because of Jim's involvement with the University, but for the culture.
"I knew I wanted something small and personal. I knew I wasn't a big school kind of girl when I was looking," Julia said.
"I think we have that in common," Kyle added. "That's one of the things that stood out to me along with knowing the university so well. We just felt like it was more of a big family here."

Lou noted how the University motto of "education for service" came to define her 25-year career as a first grade teacher. "Service is a very important part of the UIndy legacy," she said.
The Brunnemers also credit UIndy in playing a central role in the relationships they've developed over the years. Lou said her family still gets together monthly with friends they made at UIndy years ago – and she shared another UIndy connection.
"I was a Cincy girl and my pastor, Herman Emmert, graduated from here. I was in his youth group and he was the instrument that brought me here. My life has changed because of him," said Lou.
Jim acknowledged the university presidents he worked for over the years: I. Lynd Esch, Gene Sease, Benjamin Lantz, Jr. and Jerry Israel.
"All of them made tremendous contributions. I've gotten to know [University President] Rob [Manuel] and he's another in the fine line of leaders. I'd have to turn to the motto "education for service." It was that way when I was here. It is still that way today."