One on one with Cassie Ge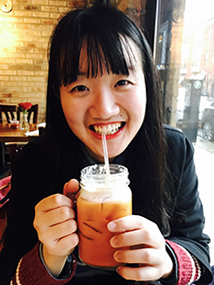 As the University celebrates International Education Month throughout October, we're highlighting the international students who bring rich cultural perspectives to the campus community.
This week we introduce you to Cassie Ge '18, a nursing student from China.

Q: Describe your travel experience.
A: Before coming to UIndy, I had only traveled within China. Indiana was my first experience being out of the country. I have visited most big cities such as Chicago, New York City and Boston. Other than China and the U.S., I have only been to Haiti. I traveled there as part of the medical mission team in May 2017.
Q: Why did you decide to attend UIndy?
After struggling with my studies in pharmaceutical engineering for a year in China, my mom recommended the nursing program at UIndy. I talked to the advisor and other representatives; they were very friendly and were always there to help me throughout my application process. I liked the small campus at UIndy because I thought it would facilitate with building career connections and making real friends. In addition, I have always wanted to experience a different culture!

Q: What has your UIndy experience been like?

A: My UIndy experience has been fantastic so far. At the beginning of college, I attended a lot of extracurricular activities, made a lot of friends and improved my English speaking. My academic life has been successful as well since I maintained my GPA above 3.5. As I am preparing for graduation, I have received a lot of advice from Professional Edge Center for my resume building and career researching, which helps me relieve some stress about graduating.

Q: How would you describe the international culture at UIndy?
A: The campus promotes cultural diversity and emphasizes the importance of respecting every culture, which makes me feel welcomed at UIndy. The faculty understands the language barrier and they are willing to help international students.

Q: What is your advice for domestic students who might not have much experience with other cultures?
A: Don't be scared and just talk to them. In my opinion, most people who have not been in contact with other cultures are simply afraid of the differences. I was homesick and scared to talk to people after I came to the U.S. After a while, I told myself that I couldn't go back to China anyway, so why not just talk to some people and try to enjoy my life at UIndy? It turns out that I love UIndy! Based on my personal experience, I would strongly recommend studying abroad to experience other cultures. Everything is unknown but you never know if it is going to surprise you! It will broaden your view of the world, and you may have a different opinion about your own culture, too.
Q: What activities are you involved in outside the classroom?
A: I have been involved in campus organizations such as College Mentors for Kids and UIndy Dance Marathon. In College Mentors for Kids, my little buddy and I won "buddy pair of the year" at the end of the year. I have also served as an International Student Ambassador since sophomore year at the Admissions Office. I am always compassionate about helping people, so these activities allowed me to contribute my enthusiasm to the people who need my help. These activities taught me about teamwork as well as how to interact with people from various age groups.

Q: Are there any professors, staff or students who have helped you?
A: There are so many people who have made my UIndy experience special. For instance, my advisor Becca Cartledge not only helped me academically, she also offered me the opportunity to go to Haiti with her team, which was a life-changing experience. Also, all of my friends were very patient with me when we first met even though they could not understand me at all! They took me to local restaurants, explored Indy with me, invited me to their family occasions and supported me when I needed help.