UIndy's Rwandan connections make global impact

As the University of Indianapolis welcomes the Rwandan ambassador Her Excellency Mathilde Mukantabana this week, we're exploring UIndy connections to Rwanda.
Charles Guthrie, professor emeritus, served as a Peace Corps volunteer teaching English in Rwanda from 2013-15 and organized the construction of a library during his time in the country. He also spent time teaching in Africa in the 1960s.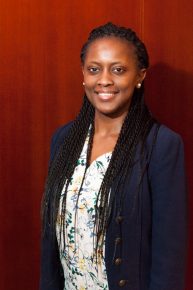 Chantal Uwizera '06 (political science/international relations) was born in Rwanda and settled in the United States. She reflects on her time at UIndy and how the networked connections she created as an undergraduate paved the way for an impactful career improving educational opportunities for thousands of young people in Africa. She continues to live the Education for Service motto.

Q. What is your current role? How did your career develop after graduating from UIndy?
"I am currently the Director of Global Programs at the Africa America Institute. It is an international NGO based in New York with footprints all over Africa. The institute has been investing in building human capacity in Africa for the past 64 years by providing Africans with increasing access to advanced skills and knowledge to pursue higher education degrees. I design programs in partnership with institutions on the continent to increase the quality of education in Africa. We also work directly with governments in implementing their national priorities related to education.
After graduating from UIndy, I went on to graduate school at American University, where I received my master's in international conflict resolution with a concentration in peace-building. Thereafter, I was appointed a diplomat for the Government of Rwanda as part of the team that represented the country on the Security Council (2013-2014), a great opportunity to engage in all political issues. I was in charge of all communications and also covered a number of specific issues especially those related to sanctions. I was also the chief of staff of the Mission. In 2015, I was promoted to second counsellor and covered a number of economic and sustainable issues. I led many negotiations, including the Global Goals on behalf of Rwanda at the UN. In 2016, I took on my current position.
I also took four years in between my undergrad and graduate education to gain experience. I worked for the Prosecutor's Office in Elkhart, Indiana, as a child support specialist for two years then moved to Fort Wayne to work as an investigator in their Human Relations Commission for the City of Fort Wayne."
Q. How did your UIndy degree prepare you for the work you are doing now?
"I double majored in political science and international relations and both programs gave me the foundation that I have to succeed. What I liked about the programs is that the professors were very well-versed in current issues and combined both theory and practice in the classroom.  During my last year, I took a semester to go to Washington D.C. as part of the Washington Program, where I interned for an Africa-based institution. For five months, I was exposed to domestic and foreign policies. My interest has always been to work on issues related to Africa. The fact that the school offered that program allowed me to gain some great experience in both aspects, but also helped to understand what exactly I wanted to study in graduate school."
Learn more about UIndy's international relations program here.
Q. Was there anyone at UIndy who helped you during your undergraduate career?
"I really was fortunate to have dedicated professors, such as Dr. Francis and Dr. (Jyotika) Saksena (head of the UIndy International Relations program). Dr. Saksena has been such a big part of my professional development. She was always there to listen to me, to guide me and to really offer any advice on what career path I can take. She has been one of the most influential professors I have had. I am still in touch with her! I remember always trying to take any classes she was offering, because I gained so much from it. She presented a really nuanced perspective on all our courses and often pushed us to think outside of the box."
Q. Why did you choose UIndy?
"When I was looking for schools, UIndy was the first school I visited. I was immediately drawn to how warm and welcoming the staff were. I  was looking for a community that would allow me to excel but also to express myself and grow.
I would absolutely recommend both the political science and International Relations programs. The programs were very challenging but in a good way, where you get the most of what you should. They adequately prepared me to succeed in graduate school. Additionally, I left UIndy with confidence to either pursue a law degree or a degree in international affairs."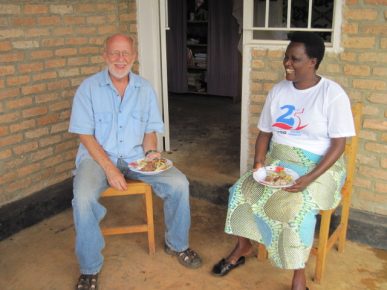 Dr. Guthrie also offered his thoughts on how UIndy prepares students to confront complex global questions.

"UIndy does an excellent job of offering a range of academic as well as extra-curricular opportunities for students to learn about as well as experience and think critically about global situations, not only in political science and international relations.  In a small school such as ours, I actually think there are fewer hurdles to students taking advantage of such opportunities than in many larger institutions.  Ultimately, of course, it is the responsibility of students to take the initiative and seize them (even though some of them may not be required!)."