UIndy students participate in Indiana Means Business Career Fair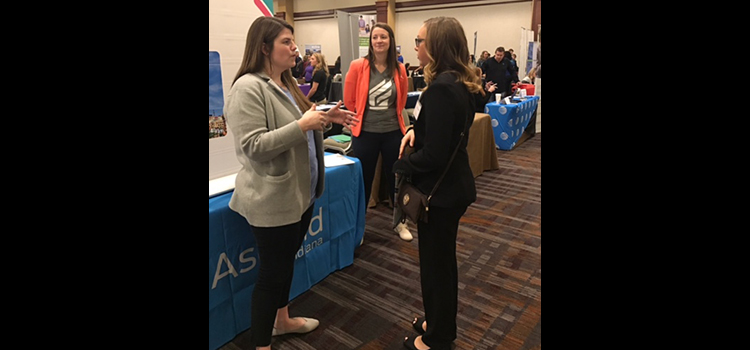 More than 300 University of Indianapolis students explored career options recently at the third annual Indiana Means Business Career Fair, co-sponsored by the UIndy Professional Edge Center.
Ninety employers hiring interns and full-time students were present at the event, which was coordinated by the Professional Edge Center (Pro Edge) in conjunction with the College Career Center Consortium (CCCC). The CCCC is made up of 13 institutions in the state of Indiana, including the University of Indianapolis.
School of Business faculty, including Larry Belcher, dean, collaborated with  Pro Edge to increase the number of participating UIndy students by sixfold at this year's event.
"UIndy School of Business' primary objective is to prepare our students for a successful career.  We believe networking and professional development increases their exposure to endless opportunities.  This coordinated effort is one of the many reasons why I am passionate about helping our students achieve their full potential," said Andre Givens, Director of Undergraduate Enterprise & Engagement, School of Business.
"This event focuses on the student in pursuit of opportunities in business, which is why the School of Business was another major player in the success of the event," said Betsy Knott, Director of Career & Community Integration, Professional Edge Center.  

Knott said Pro Edge is available to prepare students for both expected and unexpected networking and career development opportunities.

"Opportunities can show up in a moment's notice, which is why students should be taking advantage of the Pro Edge office now," she said.
Starting with freshman orientation, Pro Edge offers services to help students make an impression, whether it's a networking event, a mock interview or a career fair.

"Our students stood out yesterday in our numbers, our professionalism, our ability to connect and to share why we were qualified for the internship or full time job," said Kirk Bryans, Assistant Director, Business at the Professional Edge Center.
Check Handshake for all Pro Edge events and career opportunities.

Learn more about Pro Edge.