University announces launch of the Paul Washington-Lacey Emerging Leader Program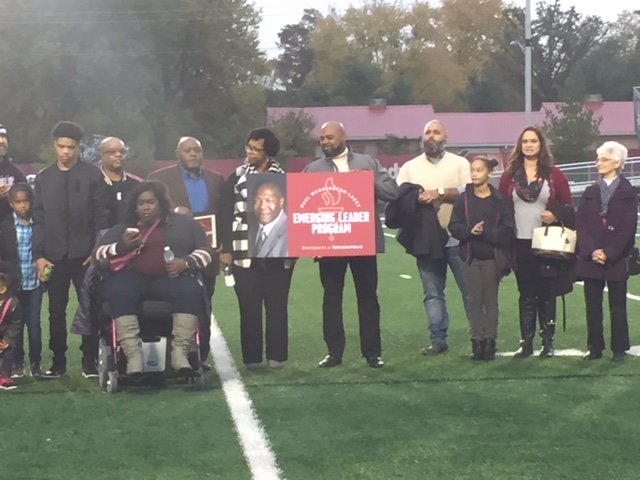 Dear Colleagues,
As a newcomer to the University of Indianapolis, I continue to be impressed by the compassion and contributions of the many leaders who are proud to call themselves Greyhounds. Whether faculty, staff or students, UIndy is home to countless mentors who value the idea of giving back and helping students reach their full potential.
In my first few weeks at UIndy, I met with a group of alumni who shared powerful stories of one such mentor. For more than 35 years, Paul Washington-Lacey proudly served many students on campus as he lived his life to help others realize their goals. Whether as an admissions counselor, career advisor or just as a steady voice of someone who always sought the best for UIndy, Paul shared his zest for life with everyone he encountered. Since his passing in 2015, his legacy has been one of respect and admiration—and thankfulness—from the many people who were fortunate enough to know him.
Paul Washington-Lacey embodied the best of the UIndy experience: a love for this University instilled in a drive to serve others before himself. He represented the values of true leadership, and it is a fitting tribute to his impact that we will announce the formation of the Paul Washington-Lacey Emerging Leader Program at the University of Indianapolis this Saturday, Nov. 4, prior to our home football game.
The new initiative is being funded by alumni, donors, and members of the Washington-Lacey family as part of the successful Campaign for the University of Indianapolis. Being developed in partnership with leaders across campus, the program will continue Paul's work of providing opportunity to high-potential students by developing their personal and professional skills and encouraging them to embrace the idea of paying it forward. The PWL Emerging Leader Program will inspire students in key areas: academic excellence, career readiness, leadership development and personal growth. Their future success will preserve his memory and influence for many years ahead.
The first student cohort is planned for next semester but you have an opportunity to support this important work today through a new crowdfunding site. Faculty and staff can serve as catalysts for "Education for Service" and invest in the virtues Paul held so sacred. All gifts will support the development of the program and provide the necessary resources to nurture the next generation of student leaders.
Thank you to the UIndy family for supporting this initiative. I look forward to sharing the success of this program with you in the months to come.
Sean Huddleston
Vice President
Office of Equity and Inclusion