Five things you didn't know about Chrissi Laut, Pro Edge administrative assistant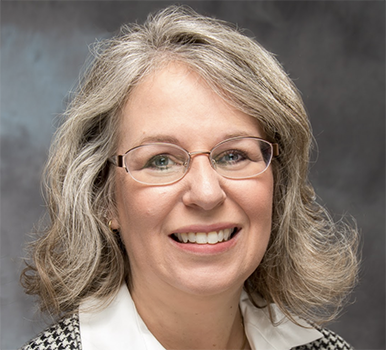 Administrative assistant Chrissi Laut '00 keeps the Professional Edge Center running smoothly. On the team for more than two years, this alumna is a longtime south sider who is happy to be back at her alma mater.
1. Tell us a little about your background before coming to UIndy.
"Prior to coming back to UIndy as a staff member of the Professional Edge Center, I was the church secretary for Calvary Lutheran Church and School here on the south side of Indianapolis for 15 years. This provided me many opportunities to expand my knowledge, learn different skills and get to know our community."
2. What's the most rewarding part of your job?
"Getting to know our amazing students. I have the privilege of talking with all of the students who visit our office. It is a joy to assist our students daily."
3. Tell us something most people might not know about your job.
"Professional Edge Center is more than just resumes reviews and assisting students with finding their First Destination after graduation.  Our team cares about the well-being of the students. While we do assist students with career readiness, it is the soft skills to get the interviews, perform well during the interview, network with valued people in the industry, mentorship programs, shadowing opportunities, Career Closet, and so much more. All of these things make my position exciting daily."
Learn more about the Pro Edge Center.
4. What do you do when you're not working at UIndy?
"I enjoy cooking, the ballet and now assist with my youngest son's robotics team.  My time in the summer is spent out by our pool as often as possible."
5. What would people be surprised to learn about you?
"I studied ballet for 18 years.  At one point I considered joining a professional company but realized that I was too tall to be paired with the male dancers, which is when I changed my plans for my future."