Professor explores 3D printing in occupational therapy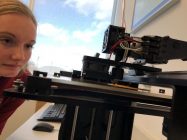 In April 2016, the University of Indianapolis launched its first #UIndyDay effort with the identification of several projects alumni and friends could contribute to. One of those projects, and the one that garnered the highest amount of contributions, was a 3D printer for the School of Occupational Therapy.
Now, two years later, Erin Peterson, assistant professor of occupational therapy, is leading the school's efforts to determine how to best use the technology to enhance OT education for both master's and doctoral students. At Peterson's recommendation, the school purchased a Maker Gear M3 printer in the summer of 2017.
"We wanted something that isn't noisy, because it's used in a classroom and prints can sometimes take a few hours to complete," Peterson said. "We also were looking for the newest technology and good user reviews."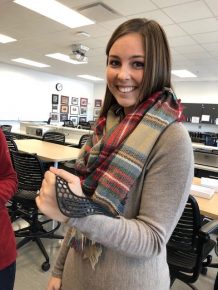 Since the arrival of the 3D printer, Peterson has been partnering with the School of Engineering to collaborate on designs for assistive devices and anatomical models that can be 3D printed. Along with the 3D printer, SOT purchased a 3D scanner that takes multiple pictures of a 3D object. The user can then edit and manipulate the 3D model of the object using special software. In OT, this could allow a therapist to scan a person's hand, arm, or other body part, upload the file to the software, and then design a custom orthosis around that body part.
Peterson admits that the technology has raised some concerns among the OT community. In particular, many hand therapists have expressed concern that 3D printing splints or assistive devices takes the OT out of the equation.
An OT student research group recently conducted a survey of occupational therapists' perceptions about the use of 3D technology in the practice of occupational therapy. Those survey findings, based on approximately 300 responses from members of the American Society of Hand Therapists, will be presented at the American Occupational Therapy Association's Annual Conference in Salt Lake City, Utah in April 2018.
There are other uses for 3D technology besides orthoses and assistive devices. For instance, Peterson noted that one study suggests that 3D-printed pillboxes may improve adherence to medication because they can be customized to the patient's needs (adequate size, security, slots per day, etc.) Peterson is currently exploring the idea of offering a 3D printing in occupational therapy elective in the occupational therapy curriculum. She is also involved in networking discussions with faculty from other occupational therapy schools to understand how the technology can enhance both OT education and OT
practice.