Five things you didn't know about Stephanie Mahin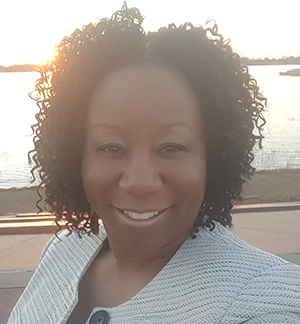 Stephanie Mahin joined the Department of Communication as assistant professor in fall 2017, and she brings a wealth of experience in the field to her role teaching strategic communication, public relations, public speaking and other aspects of communication. Before joining the University, she spent nearly 15 years working for the University of North Carolina Health Care System, first as an internal communications manager, then moving into the role of national media relations manager and broadcast manager.
1. Tell us a little about your professional background.
"In my previous role at UNC Healthcare, I was responsible for sharing employee stories externally with the media and through various social media platforms. I created four monthly web series for UNC Healthcare, each told stories staff, patients, physicians, and nurses. The team won two regional Emmy Awards for our storytelling that really helped to put UNC Healthcare on the map for producing great content.

I became fascinated by the stories that individuals could tell on their own through social media and how those stories could swell into a movement. I decided to go back to school for my doctorate to understand what the research says. I graduated with a Mass Communication degree from the School of Media and Journalism at the University of North Carolina at Chapel Hill last May. My areas of research interest are public relations, organizational engagement, and digital activism. and I am ready to put all of that hard work to good use in the classroom."
2. What's the most rewarding part of your job?
"The most rewarding part of teaching is when the light bulb goes off in a student's mind after taking my class and s/he says, 'Remember when we talked about that thing in class? I'm seeing it now in everything that I do.' That, for me, is the most rewarding part of what I do."
3. How do you think the field of communication can help us make sense of what's going on in the world today?
"This is a great time for students to be in the field of communication. There is so much from which to learn! That said, communicators are faced with a number of challenges that will impact how we move forward as a field. The first thing that comes to mind is the rapid pace with which technology has and continues to grow. The fact that individuals and organizations are now creators or their own content is a blessing and a curse.
Organizations, in particular, are now faced with having to give account to their stakeholders for a lack of diversity and inclusion in the C-Suite. Skilled communicators must be at the table when organization executives make decisions, particularly when incorporating social into communication plans. Otherwise, these organizations become a target, rightfully so, and will be called to account for, in some cases, poor decision-making. We saw quite a bit of this in 2017."
4. What do you like to do in your free time?
"Free time? (laughs) Things here are still pretty new. Once I get my legs under me, I would like to get back into the kitchen and cook! I find chopping and dicing while listening to jazz relaxing. I also find food can bring people together and that brings me joy!"
5. What's your favorite thing about UIndy?
"The family-atmosphere is something that I picked up on right away when I got to UIndy. Everyone is so friendly and helpful."
Bonus question: Do you have any favorite foods and/or restaurants in Indy? 
"I received my undergraduate degree from Butler University so I am generally familiar with Indianapolis. I will say, however, the city has grown so much since I was here last! The city has done an amazing job of transforming itself into a place for foodies. Since I am a foodie, I look forward to exploring!"