Engineering students make a splash with DesignSpine projects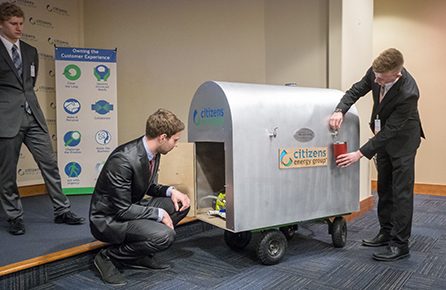 INDIANAPOLIS – Engineering students at the University of Indianapolis recently presented innovative designs to clients as part of a collaborative project at the R.B. Annis School of Engineering.
Regional companies like Easterseals Crossroads and Citizens Energy Group are benefiting from the collaboration that taps into students' expertise, from product design to testing and implementation.
"The reception from clients and other people who have observed our students is that they are doing a phenomenal job. Many people can't believe they are just sophomores," said José Sanchez, director of the Engineering program at the University of Indianapolis.
The engineering program at the R.B. Annis School of Engineering centers on the DesignSpine curriculum, a unique program structure that provides students with valuable networking and skill-building opportunities. Students form interdisciplinary teams — including software, mechanical, industrial and systems engineering concentrations — and work collectively to tackle a singular problem. They face real-life projects and challenges starting their sophomore year, with each problem requiring them to apply industry standards, project management, research, entrepreneurship and leadership skills to find solutions.
Three student teams participated in DesignSpine projects during the 2017-18 academic year and recently presented their projects to clients. The DesignSpine curriculum follows the Design for Six Sigma customer-oriented development process, recognized by businesses worldwide, which reinforces the concepts of customer focus and "designing it right the first time" to avoid expensive consequences later. Students are challenged to identify metrics such as quality, delivery, cost and optimization of designs.
Learn more about the R.B. Annis School of Engineering DesignSpine experience.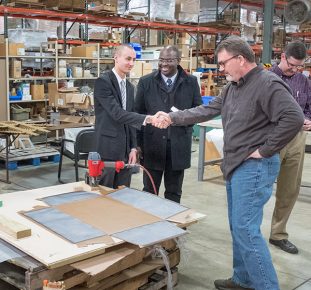 Students designed an assistive auto-cutter for Easterseals Crossroads Industrial Services  and a water wagon for Citizens Energy Group. Another project was a custom orthosis for the University's School of Occupational Therapy.

David Olawale, assistant professor of engineering, emphasized the interdisciplinary approach and gave credit to faculty across campus for coordinating the student teams.
"This can be challenging," Olawale explained, "It's easy to put something on paper, but it's harder to make it a reality and make sure it works."
Kinsey West '20 (industrial & systems engineering) worked on the water wagon for Citizens Energy, which is a fully functional mini-model of a water distribution system to be used at events where clean water is not always readily available. West said it was challenging to start a project with nothing but a handout — and carry it through to the building and testing phase.
"I've learned countless lessons throughout this project, but the biggest one is that things don't always go as you had planned. You have to revise and keep moving forward," West said.
Allison Zwickl '20 (software engineering) worked on the custom wrist orthosis project, with the goal of reducing the surface area while still maintaining support for the patient's wrist. She said trial and error played a strong role in the testing phase.
"Every time our design failed, we just added a little more plastic so that our final product would have the least amount of thermoplastic possible," Zwickl said.
Both students said that dealing with setbacks taught them a valuable lesson.
"Failure is necessary in order to succeed. Every time we failed in creating a new design, we were able to use that knowledge to create a new design – which is what ultimately helped us create the design we presented to our sponsor," Zwickl said.
Written by Sara Galer, Senior Communications Specialist, University of Indianapolis. Contact newsdesk@uindy.edu with your campus news.