University of Indianapolis partners with IU McKinney School of Law for new scholar program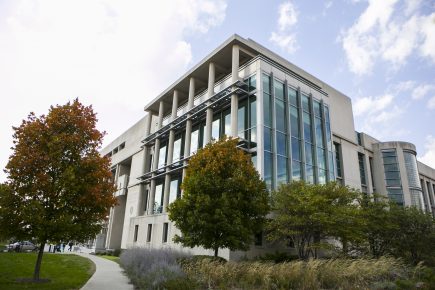 INDIANAPOLIS – The University of Indianapolis has partnered with the Indiana University Robert H. McKinney School of Law to create the University of Indianapolis Law Scholar. Each year, one student or alumnus will be nominated for the award and will receive: (1) a minimum half-tuition scholarship throughout their studies at IU McKinney; and (2) a guaranteed experiential learning opportunity of either an externship in the Indianapolis Bar or a research assistantship at IU McKinney.  Candidates who meet established minimum eligibility requirements will be considered for the award, which will be selected by the University of Indianapolis Law Scholar Committee. The first Law Scholar will be awarded for Academic Year 2018-19.

"The University of Indianapolis is proud to partner with the IU McKinney School of Law to provide another pathway for our students to achieve their personal and professional goals," said President Robert Manuel. "Many of these graduates will go on to leadership roles across Indiana, which continues our tradition of impact on our local and regional economy."
"I am delighted by our partnership with the University of Indianapolis," said IU McKinney Dean Andrew R. Klein. "I'm confident the graduates who attend IU McKinney through this partnership will go on to do wonderful things that will make both schools incredibly proud."
Dr. David Root, assistant professor of political science and pre-law advisor, initiated and established the partnership, which was formed in 2017.

"The University of Indianapolis Law Scholar offers our students a significant opportunity for success when they become law students at IU McKinney and, later, lawyers, community leaders, and professionals in a wide range of fields," said Dr. Root, an alumni of IU McKinney (2006). "It provides them with a first step towards launching a successful and rewarding career in the law or wherever their legal education might take them."

About the program

Starting in Academic Year 2018-19, one University of Indianapolis student or alumnus will be selected each year as the University of Indianapolis Law Scholar and will receive at least a half-tuition scholarship throughout law school as well as a guaranteed experiential learning opportunity. The experiential learning opportunity consists of either an externship in the Indianapolis Bar for academic credit or a paid research assistantship at IU McKinney, either of which begin after completion of the first year of studies.
Additionally, the University of Indianapolis Law Scholar is expected to serve as a visible and active liaison between IU McKinney and the University of Indianapolis, demonstrating strong leadership during campus visits, recruiting efforts, and other joint measures undertaken by the two schools. The program is  designed to assist students financially and experientially when they matriculate to IU McKinney and to encourage students to consider IU McKinney for their legal studies.
Eligible candidates must have completed an application to IU McKinney by March 1 of the year in which they are applying to law school as well as complete their award application by the same date.  The University of Indianapolis Law Scholar Committee will then select and submit its nomination to IU McKinney by April 1.  The awardee will be notified shortly thereafter.
For more information about the University of Indianapolis Law Scholar, please contact Dr. Root at rootd@uindy.edu.