Speech and Debate team wins big at State Championship
The University of Indianapolis Speech and Debate Team won big at the Indiana Forensics Association (IFA) State Championship in February 2018 at Ball State University.  Three members of the team earned the honor of being named a state champion, and the team as a whole earned top honors throughout the tournament. The Greyhounds finished third in the overall team award sweepstakes category.
The UIndy Speech and Debate Team is a nationally ranked community that competes in events to enhance student's communication, research and public speaking skills. Stephanie Wideman, assistant professor of communication, is the team director.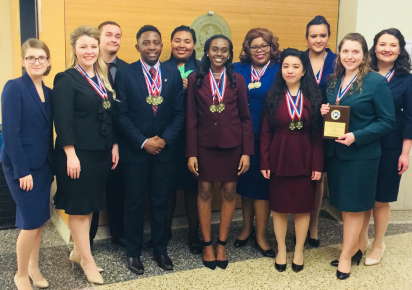 "Our success at the state competition is reflective of the student's hard work and dedication to honing their personal skills as well as representing the university well," Wideman said.
Taylor Woods '22 (communication) earned the title of State Champion in Novice Poetry Interpretation. "I joined the Speech and Debate Team as a freshman without any prior experience in the field," Woods said. "I've grown so much since being on the team, which has helped me in a variety of areas in my life."
Craig Chigadza '22 (psychology) earned the title of State Champion in Novice Extemporaneous Speaking. "Being part of the speech and debate team here at UIndy has been life changing," he said. "Not only am I developing an important skill in public speaking and critical thinking, but I am gifted a family away from home and a group of young men and women who are seeking to make an impact by addressing vital global issues."
Hilary Bauer '22 (studio art and political science) earned the title of State Champion in Novice Impromptu Speaking. "I was beyond thrilled to represent UIndy at the state championship," she said. "The university provides us with the materials and opportunity to succeed at this level. I'm grateful for the support we receive as a team."
See a full list of team results below.
Congratulations to all Greyhounds who competed: Sierra Roberts, Vanessa Hickman, Ryan Jordan-Wright, Craig Chigadza, Melanie Moore, Taylor Woods, India Graves, Shayla Cabalan, Roci Contreras, Kaylee Blum and Hilary Bauer
The team will travel to two national tournaments in March to finish out the competitive season.
IFA State Championship results:
Novice Impromptu– State Champion 

Hilary Bauer

, 6th place Craig Chigadza

Novice Extemporaneous

– State Champion- 

Craig Anesu Chigadza

, 3rd Place Hilary Bauer

Novice Poetry– State

Champion Taylor Woods

Varsity Persuasion– 2nd Place Shayla Cabalan, 6th place Vanessa Hickman, 7th place Melanie Moore
Novice Persuasion– 6th place Craig Chigadza
Varsity Poetry– 2nd place Roci Contreras, 6th place India Graves
Varsity After Dinner Speaking– 3rd place Vanessa Hickman, 5th place Shayla Cabalan, 6th place India Graves
Varsity Prose– 5th place India Graves, 6th place Kaylee Blum
Novice Prose– 3rd place Taylor Woods
Varsity Extemporaneous

– 7th place Melanie Moore

Varsity Informative– 5th place Kaylee Blum
Program Oral Interpretation– 5th place Kaylee Blum
Duo Interpretation– 6th place Taylor Woods and Craig Chigadza