Two new alert systems enhance on-campus emergency communications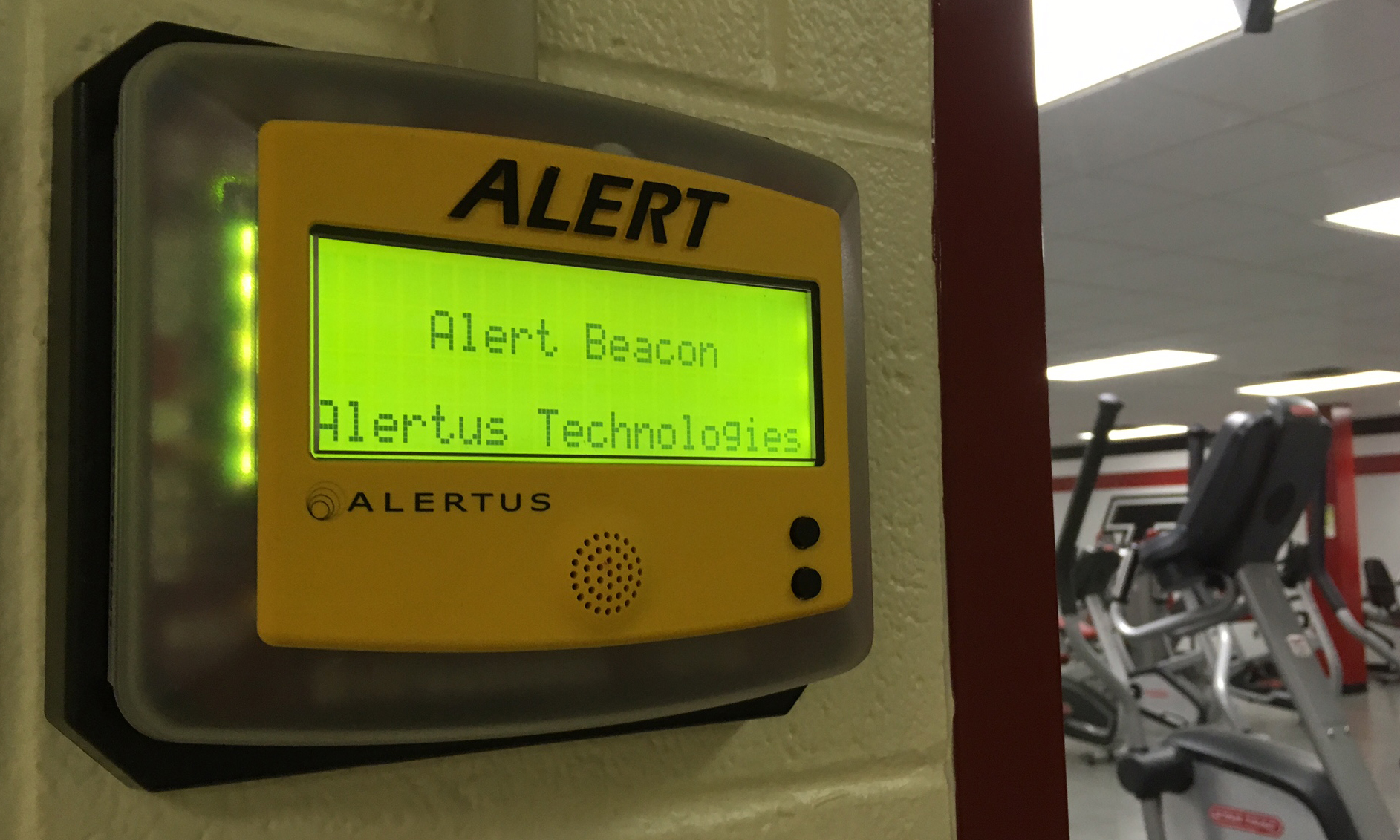 Two emergency notification tools will be added to the University of Indianapolis' emergency alert system this month. The new tools, Alertus desktop software and emergency beacons, advance the institution's emergency management platforms already in place.
A campus-wide tornado drill on Tuesday, March 20 in conjunction with Severe Weather Awareness Week will include these new systems. The test of the sirens will take place between 10 a.m. and 10:30 a.m. and again between 7:30 p.m. and 8:00 p.m.

Emergency beacons

Sixteen emergency beacons have been installed in nine buildings across campus. The beacons will sound an alarm and display any alert sent via the Watchdog system, the University's emergency warning system. The beacons, which operate independently from wireless carrier services, serve areas that have limited cellular connectivity and will alert campus visitors who may not have access to Watchdog alerts. 

Emergency beacon locations:
Lilly 004B

Schwitzer 010

Cravens basement

Esch 012 and 034

Health Pavilion: 2nd, 3rd and 4th floors

Athletics and Recreation Center (ARC)

Warren basement

Schwitzer: UIndy Hall North hallway

Health Pavilion: R. B. Annis Theatre

Schwitzer: Quest Food Services basement

Krannert Memorial Library basement

Ruth Lilly Fitness Center basement

Health Pavilion: Community Health area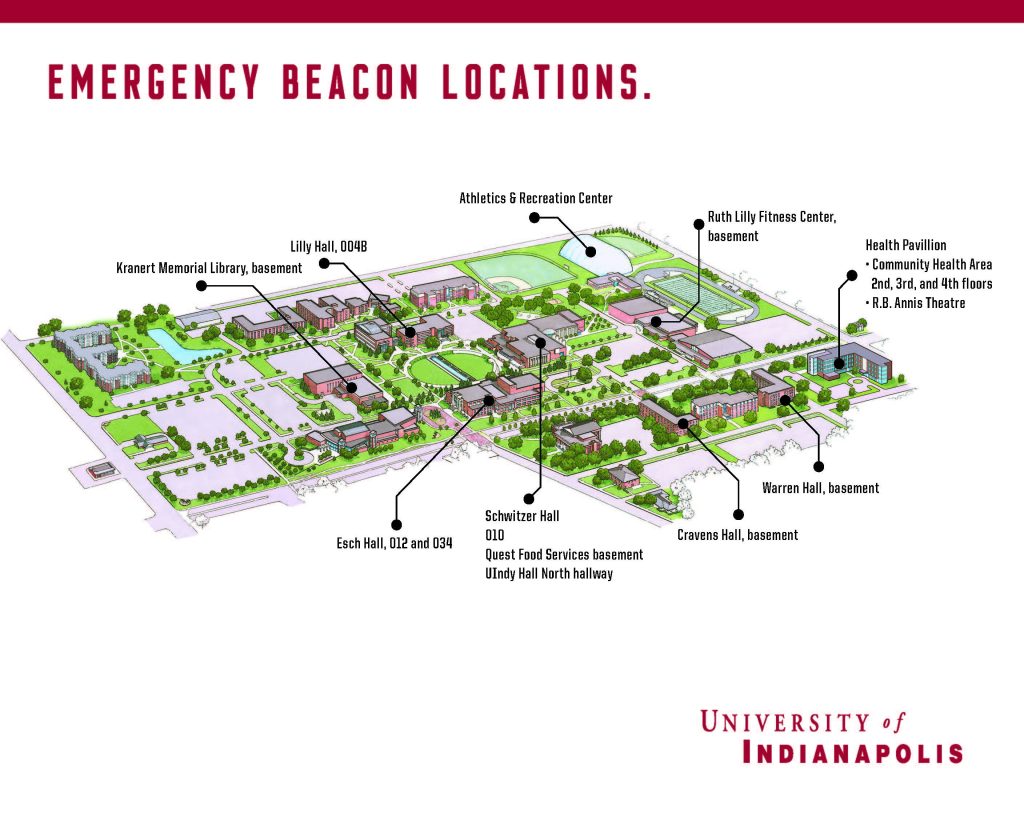 Alertus desktop notifications

The University Alertus desktop notification software is being installed on most University computers on campus. Computers, print release stations, and public kiosks now have the ability to display emergency messages through Alertus. Alert messages will also appear on the beacons, which are linked with Alertus, and televisions in the dining hall.  

When a Watchdog alert is triggered, the Alertus software will be launched. The software will place an emergency message on your desktop, similar to the message below. Note: If your computer is asleep or logged out, the message will not appear.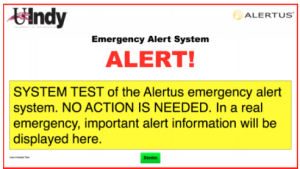 If your computer is owned by the University and managed by Information Technology (for example: if your computer requires UIndy username and password to log in), the Alertus notification system will be installed automatically by IT in March 2018. A new icon, either in your system tray (Windows) or in the taskbar (Mac), will be displayed on your computer as illustrated in the screenshots below. If you do not see this icon, please file a ticket with the Help Desk or call ext. 3318.

Mac screenshots:


Windows screenshots:

University of Indianapolis Police Chief David Selby explained that Watchdog, Alertus desktop software and the beacons will display the same emergency message simultaneously.

"No matter where someone is on campus, they will be alerted through one of these systems. Even if their phone is shut off, they'll hear the beacon," Chief Selby said.

Chief Selby credited Indianapolis Student Government and the Residence Hall Association with securing the funding for the emergency beacons.
"Students were on board right away with the project. If it wasn't for them, it wouldn't have happened," he said.
Kennedy Nies '18 (biology and Spanish), RHA co-president, said her organization was thrilled to partner with the University Police Department to improve campus safety.
"We are excited to get these installed in our residence halls. This is a great way to keep students safe and informed," Nies said.
FAQ

HOW ALERTUS WORKS
When a Watchdog alert is triggered, the Alertus software will launch. The software will place a window on the user's desktop displaying the warning that has been issued.  Please note that this will not happen if the computer is asleep or logged out.
WHEN ALERTUS WILL BE ACTIVATED
The Alertus desktop notification software will be activated if an emergency situation develops on campus where immediate action/response is required (e.g., an active shooter or threat on campus, a tornado warning or an event that will evacuate a building, such as a fire or hazardous materials spill).

YOU MUST BE SIGNED ON
To receive Alertus desktop notifications in the event of an emergency, you must be signed on to your university computer. The desktop notification software cannot bring a workstation out of sleep or hibernation mode.
WHAT ABOUT MOBILE DEVICES?
You will only be able to receive Alertus desktop notifications on your desktop. It is strongly recommended that you sign up to receive Watchdog alerts on your mobile device.