R. B. Annis School of Engineering Scholarship Competition sparks big ideas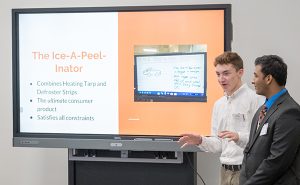 The Ideation Room was buzzing with innovation as high school students participated in the R.B. Annis School of Engineering Scholarship Competition – a process that required teamwork, presentation skills, and some old-fashioned creativity.
David Olawale, an assistant professor of engineering who hails from Florida and dislikes Indianapolis winters, recently challenged students to come up with a device to melt the ice and snow off his car in ten minutes or less. The students were given a few hours to come up with plans for a prototype device to accomplish the task.
With names like the "Ice-A-Peel-Inator," "wobbler" and "chemical scraper," the teams were not short on ideas. One group came up with plans for a device similar to an iPhone that could be plugged in to charge lithium-ion batteries.

"The Ice-A-Peel-Innator has wires similar to a toaster. They heat up as soon you unplug it because it's constantly storing energy," explained Isaac Johnson, Martinsville High School.

Johnson's teammates, Hruday Achanti of Neuqua Valley High School (Naperville, IL) and Chris Laymon, Batesville High School, relied a lot on trial and error. They presented their ideas in a 15-page PowerPoint, during which all candidates had a speaking role.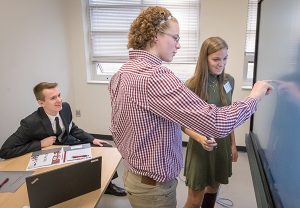 Eleven students chosen from the various teams earned full-ride scholarships. Engineering faculty were impressed with all of the candidates.
"They worked well in teams, were articulate, and they have tremendous leadership qualities. In addition, they all were creative and were thinking critically. These are all qualities desired of all students that enter the R.B. Annis School of Engineering," said Jose Sanchez, engineering program director.

David Olawale, who issued the challenge to students, noted that the R. B. Annis School of Engineering is increasingly attracting high-quality students.

"Within a few hours, teams of three to four students successfully collaborated on a design project. Given the short project duration and the fact that the team members were meeting one another for the first time, the applicants demonstrated very good ability to work with others in a team," Olawale said.
Learn more about the R. B. Annis School of Engineering

The synergy noted in the competition reflects the interdisciplinary teams at the R. B. Annis School of Engineering that solve real-life problems for external clients. University of Indianapolis engineering students are trained on Design for Six Sigma methodology, project management, research, entrepreneurship, leadership, and communication.
"The DesignSpine curriculum of the R.B. Annis School of Engineering trains students to become modern engineering leaders who create and deploy outstanding solutions to make our world a safer and better place," Olawale added.
Starting as early as sophomore year, engineering students collaborate with central Indiana businesses to apply these skills and grow their network. Students have partnered with regional companies such as Easterseals Crossroads Industrial Services and Citizens Energy Group to create and present prototypes of new products.