Music therapy program forges community connections through hands-on learning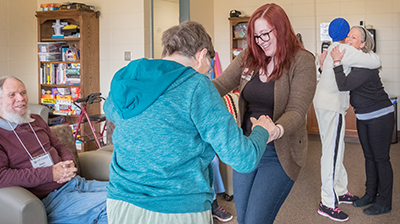 From preschoolers to senior adults, the field of music therapy offers an increasing number of opportunities to help patients achieve goals. A new music therapy program at the University of Indianapolis provides students with hands-on opportunities to apply innovative techniques, grow their skill sets and connect with the community all at the same time.
"It's amazing to see how we can all be brought together by music," said Connor Furgason '20 (music therapy), who has worked with children at the University Heights Children's Center preschool.
Furgason is part of the University's first cohort in the music therapy degree program. Graduates in the program will earn a Bachelor of Science in music therapy. Janice Schreibman, assistant professor in the Department of Music, developed the program and serves as director.

Music therapists use techniques such as composition, improvisation, performing and listening to achieve non-musical goals that include the patient's physical, emotional, cognitive and social well-being. The use of music to enhance developmental care in the NICU supports premature infant weight gain and develops mother-infant bonding.

Music therapists also work with children on the autism spectrum to improve social and communication skills; people who have mental health disorders or drug addictions to develop coping skills and improve overall quality of health; individuals with traumatic brain injury or neurological disorders to promote functional use of voice, mobility, and use of upper extremities; veterans or others who have experienced traumatic events to help reduce stress and anxiety; and older adults diagnosed with Alzheimer's disease to improve reminiscence and support self-expression.

Individuals who possess a Bachelor of Science in music degree may qualify to pursue a equivalency certificate in music therapy by completing all music therapy courses and the capstone of an internship. Students receiving either a degree or certificate must pass a Board Certification exam offered by CBMT before they can practice.
Learn more about the program here.
Schreibman said one of the unique aspects of the University of Indianapolis' music therapy program is the perspective she brings from her extensive clinical experience. She founded Creative Pathways, a nonprofit that focuses on "Sibshops®" (workshops designed for siblings of children with special needs) and providing music therapy at adult day centers. Individual music therapy is also provided in a limited capacity. Hands-on experiences are an important aspect of services.

"I emphasize applying skills immediately while you're learning them and not waiting," Schreibman explained.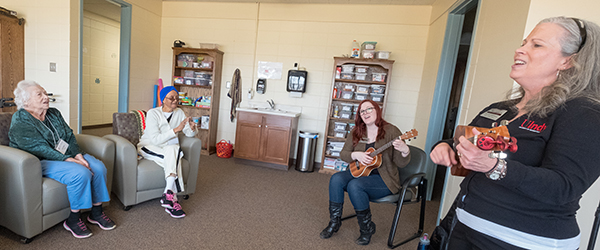 Music therapy students are paired with community partners as part of the program's emphasis on practical experiences, including Accessibilities Inc. in Greenwood, Noble of Indiana , Opportunities for Positive Growth, Meaningful Day Services, Still Waters Adult Day Center in Indianapolis and Riley Hospital for Children at Indiana University Health.
"Just in my first semester of the program, I was out in the field once a week at two different places working alongside my colleagues," said Morgan Knight '19, a 2017 music graduate who is enrolled in the music therapy equivalency program.
Gabriella Ratliff  '16 (music), who is pursuing a music therapy equivalency degree, plans to use her love of music to work with children facing physical, social or developmental challenges.

"Professor Schreibman is great and willing to work with you to figure out the best path for you to achieve your goals of becoming a music therapist," Ratliff said.

Music therapists must be proficient in guitar, piano and voice, and candidates for the program are required to have those working skills. However, Schreibman emphasized that clients do not need to have any musical skills to benefit from music therapy.
"The idea for the person receiving services is that they are active in the treatment. It's not about being perfect in making music when you're receiving music therapy. It's all about the process and the relationship that's built," Schreibman said.
Growing field
Schreibman noted that there are currently not enough practicing music therapists to meet the need of all of those waiting for services. More hospitals are investing in music therapy services, including Riley Hospital for Children and Peyton Manning Children's Hospital. School districts are also beginning to see the advantages of music therapy, particularly in support of the developmental disability population.
Furgason noted the advantages of the University's location, which is close to hospitals and other large employers.
"With the ability to be in a community that encourages development in music, and to be so close to Indianapolis, the opportunities are going to be endless," Furgason said.
Written by Sara Galer, Senior Communications Specialist, University of Indianapolis. Contact newsdesk@uindy.edu with your campus news.