One on one with Uella Rodriguez '18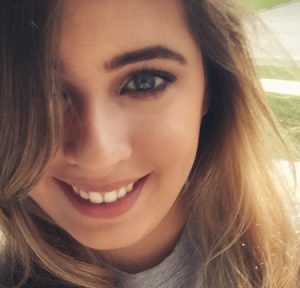 Uella Rodriguez '18 (history major, art history and anthropology minor) will pursue a master's degree in museum studies and history at Tufts University after graduating from the University of Indianapolis in May 2018.
Q. What internships did you participate in that were related to your major? 
A. I have been a Digitization & Media Intern at the Air Zoo Aerospace & Science Museum, an Exhibits Intern at The Children's Museum of Indianapolis, and a Collections Intern at the Benjamin Harrison Presidential Site. These experiences combined with my academic program have helped me to develop my professional skills in every way. I didn't have much professional experience when I first came to UIndy, and I had no idea how I was supposed to go about establishing myself in my desired field. Each internship taught me something different about the museum field in addition to how to navigate the professional world.
Q. Were you involved in any extracurricular activities as a student?
A. I have been involved in ARCHAIC, Keys Club, Janus Club, The National Society of Leadership and Success, and Phi Alpha Theta. These organizations made my college experience much more enjoyable. I met a lot of amazing people, and I learned a lot of different things from each experience.
Q. Were there any faculty, staff or fellow students who helped you during your time as a student at UIndy?
A. There have been so many people who have helped me in some way as I have been a student here at UIndy. Nicole Martinez-LeGrand was extremely helpful in my early undergraduate years in terms of professional advice. She has a background in museums studies, and for a long time was my only resource in that area. She also first told me about the internship program at The Children's Museum of Indianapolis, which was the most amazing internship experience I have had.
In addition to that, Dr. Ted Frantz had also been really helpful since he helped connect me with my internship at the Benjamin Harrison Presidential Site. In terms of faculty, every single professor I have had here at UIndy has helped me develop and improve myself academically. I've been really lucky to have really great professors here at UIndy.
Slideshow: Meet the Class of 2018!
Q.  Would you recommend UIndy to prospective high school students?
A. I would definitely recommend UIndy to prospective high school students. I think many students will find that UIndy is a diverse and accepting community that also offers an environment where students be self-exploratory and can intellectually thrive.
My advice to incoming freshmen is that they should take advantage of every opportunity and experience that they get presented with during their time at college. Open yourself up to new experiences in all areas of your life. If a club sounds like it would be fun, then join! If you have always wanted to travel, look into a semester abroad or a spring term trip! Does a class outside your major look interesting? Then take it if you can! You'd be surprised what experiences come in handy as you get older, especially when you start job hunting. There is no such thing as worthless knowledge, so gather as much as you can while you can.