Navigating for a new millennium: Commencement speaker and honorary degree recipient Rev. Rob Fuquay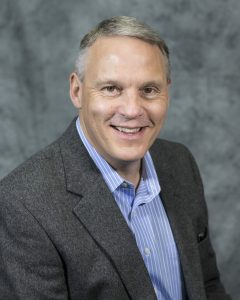 Reverend Rob Fuquay knew he wanted to join the ministry from a young age. As a senior in high school in North Carolina, he encountered Duke Seminary students who volunteered at his church and made a lasting impact on his career choice.
"I remember having this tug to consider doing with my life what these guys do, and my pastor helped me understand that this might be a call to ministry that I was sensing," Fuquay said.
Rev. Fuquay now leads the 6,000-member St. Luke's United Methodist Church in Indianapolis, and on May 5, he will receive an honorary degree from the University of Indianapolis in recognition of his work as a rising thought leader in the church's mission. Rev. Fuquay also will provide the Commencement address.
Watch a live stream of the Commencement ceremony at 11 a.m., May 5, 2018 on uindy.edu.
"I was very surprised and deeply honored, not just for the degree itself but also for the connection to the University of Indianapolis. I have such high regard for UIndy and the standards and work of the school. To have a connection to them is very rewarding to me," Fuquay said.
As the author of several books and course guides on religious topics – including a racing-themed series called "Take the Flag" – Fuquay aims to bring people into the church who might not otherwise participate. Building and maintaining that community is an integral part of his work.

Related: University of Indianapolis to recognize master musician Béla Fleck with honorary degree

"It's about the formation of a community that helps people develop socially and spiritually, and provides support systems that we need in life," he explained.

Rev. Fuquay has served both small, rural churches and large congregations. He is the fifth senior pastor appointed at St. Luke's.
"You'd think there's very little those [smaller] churches could have in common with St. Luke's in Indianapolis, which is a mega church. Yet the people dynamics are the same everywhere," he explained. "It's just being able to manage those same issues at a larger level."

While Rev. Fuquay knew his call was to be a local church pastor, his college chaplain pointed out that ministry could take him in many different directions. Fuquay described it as learning one's "call within a call."
"It has been an unfolding, almost evolving sense of how God wants to use me. It's not been a clear path that I know this is where I'm going, but sort of a step by step discerning my own gifts," he explained.

He said that applies to every profession, not just the ministry – and that's a theme he will explore during his Commencement address.
"Don't get so worried about charting the map, but simply follow the compass. Those coordinates can change on any given day," Rev. Fuquay said, pointing out that values need to remain constant amid a rapidly changing world. "Rather than worrying about where life is going to take you, focus on who you want to be."
For graduates, Fuquay said an important aspect of developing lifelong values is "understanding that our education and our degree is not just for us. It's about what difference are we going to make in the world? God wants to use all of us in a way that makes a lasting impact on this world that will make a difference in people's lives after we're gone."