CELL announces endorsed Early College high schools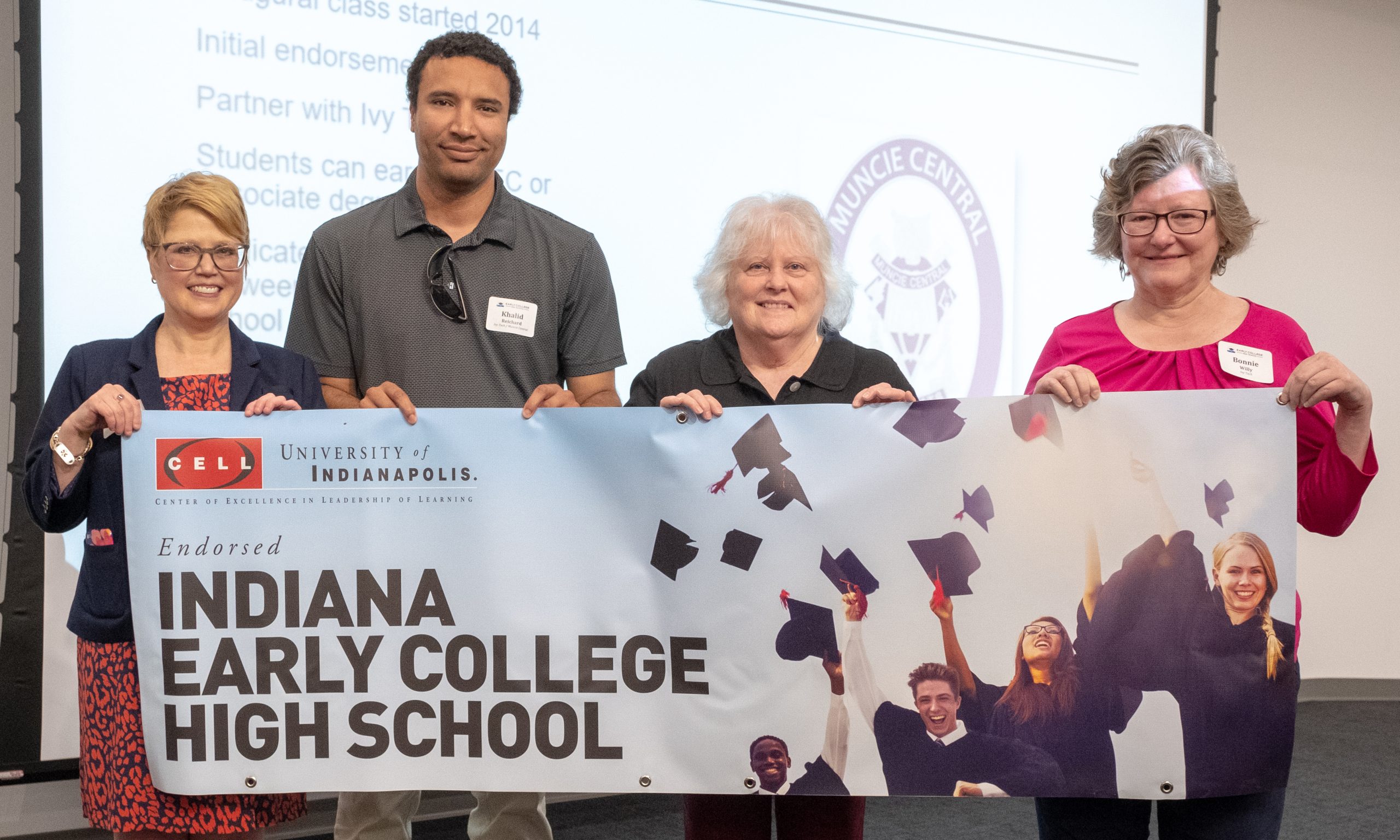 The Center of Excellence in Leadership of Learning (CELL) at the University of Indianapolis recently announced seven endorsed Early College high schools. Teresa Lubbers, Commissioner for the Indiana Commission of Higher Education, provided remarks at the event, held in the R.B. Annis Theatre in the Health Pavilion.

"This event was a celebration of the extraordinary achievements of seven high schools which are implementing high quality, high impact Early College programs across the State of Indiana," said Emily Burke, director of Early College at CELL. "This is a record number of endorsements in the history of Early College in Indiana and nearly doubles the number of exemplary Early College high schools recognized by CELL."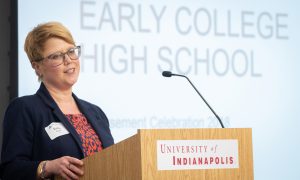 Burke presented each school with a banner indicating endorsed status. The schools included: Area 31 Early College Career Center (Indianapolis), Michigan City High School, Area Career Center University (Hammond), New Washington Middle/High School (New Washington-Greater Clark), and Muncie Central High School, while an additional two – Evansville-Vanderburgh School Corporation Early College High School and Richmond High School – earned re-endorsement.
Lubbers recalled her time in the Indiana State Legislature and work with CELL over the years as she and other lawmakers and educators sought to create opportunities for underserved students in the space between K-12 and higher education.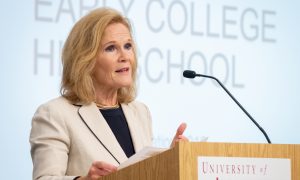 "One of the ways we knew we could do this is to change the mindset of students who might not have thought they were actually college-going material, because no one had really told them that they were," Lubbers said. "What we noted is that more than ever, it was going to be important for people to have some sort of quality credential beyond high school."
Lubbers emphasized the Early College program's focus on quality, and acknowledged CELL's role in implementing rigorous standards. "We knew the quality of the work that CELL did," she said.
The Early College High School model creates small schools that are designed to give students a head start on the rest of their lives. Students can earn both a high school diploma and up to two years of credit toward a bachelor's or associate degree. While open to all students, Early Colleges specifically serve low-income young people, first-generation college students, English language learners and students of color, all of whom are statistically underrepresented in higher education and for whom society often has low expectations for academic achievement.

Burke noted that every Early College adheres to the distinctive eight Core Principles established by CELL – including serving a targeted student population, providing a rigorous curriculum and robust student supports – that serve as a framework for the planning and implementation of this school model.
The Center of Excellence in Leadership of Learning is a leading convener, catalyst and collaborator for dynamic, innovative education change in Indiana. CELL is committed to all Indiana students, regardless of background, graduating from high school equipped with the skills and knowledge necessary for success in postsecondary education, training and the 21st -century global economy. Learn more.