Honors College alum shines in national scholarship competition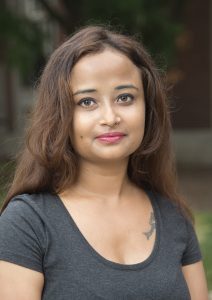 University of Indianapolis Ron & Laura Strain Honors College alumna Aura Ankita Mishra '12 (psychology) recently earned the top prize in a national competition hosted by Alpha Chi Honor Society.
In a field of 27 applicants, she was selected to receive the $6,000 Joseph E. Pryor Doctoral Fellowship, which will support her pursuit of a Ph.D. in human development and family studies.
Mishra says she is excited about the next steps in her career, the foundation of which began at UIndy.
"What really helped me prepare for graduate school was the Honors College independent project at UIndy. I gained firsthand experience in working with actual data, running analytic models, and interpreting results, all of which are important skills necessary to succeed in graduate school."
Her research has focused on evaluating the influence of childhood maltreatment and adversity exposure on adolescent and adult mental health outcomes, showing that child maltreatment has lasting effects. For example, she evaluated the dynamic association between post-traumatic stress, ongoing home violence and the ongoing changes in friendships in school.
"Aura's achievement demonstrates the success students in the Strain Honors College have after leaving UIndy," said Jim Williams, executive director of the Ron & Laura Strain Honors College. "The honors projects our students undertake often take a year's worth of planning and execution under the tutelage of a faculty mentor, and as in Aura's case, one can see how that labor of learning became a springboard for her profound work today on adversity in adolescence.  She's now in a position to conduct research that will impact policy and prevention on a critical issue in our world."
Mishra's more recent work researching the cascading impact of childhood adversity on later-life health and well-being resulted in the study that won the Pryor Fellowship award.
At a time when about one in five – or over 40 million – Americans experience mental illness, Mishra's work is focused on ways to lower those numbers.
"These studies are important because they provide empirical evidence for prevention and intervention methods to prevent the harmful effects of childhood adversities during adolescence and adulthood," she explained.
After graduating, Mishra plans to gain additional training as a post-doctoral research fellow and subsequently work as a faculty member at a research-oriented university.
Learn more about the University of Indianapolis Honors College