UIndy Department of Theatre makes Indy Fringe debut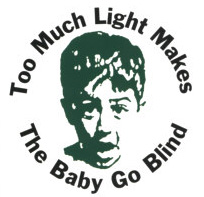 The University of Indianapolis Department of Theatre makes its Indy Fringe debut this August with a revival of Chicago's legendary show, "Too Much Light Makes the Baby Go Blind" by Greg Allen. Performing as the UIndy Theatre Company, the professional production features 24 short plays delivered in a frenetic 48 minutes. The order of the show is determined by the audience, who shout out numbers that correspond to each play. 
James Leagre, assistant professor of theatre, is directing the UIndy Theatre Company production.

"When people hear about the concept, they often mistake the show for sketch or improv," he said. "But these are thought-out, written plays, from drama to comedy to performance art to absurdism. And the audience gets to control it."
"Too Much Light Makes the Baby Go Blind" is a perfect fit for Indy Fringe, which takes place along Massachusetts Avenue in Indianapolis every August with 11 days of 400 performances by more than 80 groups at numerous venues. Indy Fringe focuses on encouraging and supporting independent artists through accessible and affordable outlets while bringing together diverse community members.
Leagre's goal for the project was two-fold: to re-engage theatre alumni and to provide current students with a real-world experience. Theatre alumni and current students were welcome to audition and participate.
"The major differences that I communicated with our current students was that I do not have my education hat on. I'm taking it off for this," Leagre explained.

All students who auditioned received feedback, but those who were hired as cast or crew have professional obligations to meet in exchange for a salary.

"I wanted to provide them that professional experience," Leagre said.

Along with other Indy Fringe artists, UIndy theatre students will be on the sidewalk hawking their show. The more passersby they can get interested in the performance, the more the cast and crew will earn.
Featuring seven Department of Theatre students and alumna Morgan Jackson '16 (theatre) as assistant director, the production provides professional experience and community connections.
Mary Schreier '19 (theatre) will perform multiple roles in "Too Much Light Makes the Baby Go Blind." After playing one of the lead roles in the Department of Theatre's production of Lauren Gunderson's "I and You" in the spring, Schreier said she is looking forward to the comedic vignettes and unpredictability of the Indy Fringe performance.

"It's a great idea for UIndy. It's extra stage time for students, and having a professional gig on a resume coming out of college is really smart," Scheier pointed out.
The original show at Chicago's Neo-Futurarium promised 30 plays in 60 minutes. The UIndy Theatre Company will perform 24 plays in 48 minutes to fit into the Indy Fringe format. Other elements of the show pay additional homage – including complimentary fictitious name tags and free pizza for the audience if the actors don't deliver on time.
Not only do current students get the chance to connect with UIndy theatre alumni and the broader theatre community, but also several alumni are planning to attend the performances.

"James was a mentor to me when I was a student, so this is a nice way to reunite with a former professor and keep learning from him. It's also incredible to see students that I did not go to school with learn in their own ways, and to be a part of that," said Morgan Jackson '16 (theatre), assistant director.

Jackson and Leagre noted how performances can bring alumni together.

"It creates momentum at the Fringe, and with the alumni coming to see the show, hopefully it will start to evolve," said Leagre, who hopes to continue the production every year at Indy Fringe.
"There's a level of pride that radiates from the UIndy theatre alum group. Even those of us who weren't students at the same time support each other's current involvements and productions, and give tips to each other when needed. This is a way to really ignite that pull between the alum groups," Jackson added.
The production will be presented to new Hounds during Welcome Week, with a performance at the Studio Theatre during the second week of September. (See events.uindy.edu for updated information.)
Production details:
Katelyn Carter: Cast
Daisy Gray: Cast
Destiny Heugel: Cast
Mary Schreier: Cast
Brayton Lipperd: Production manager
Liesel Schmitz: Stage manager
Emily Hart: Costume designer
Morgan Jackson (alum): assistant director
Ticket info: Indy Fringe
Venue:  District Theater Stage II: 627 Massachusetts Ave, Indianapolis, IN 46204
Times:
Thursday-Aug 16    7:30 p.m.
Saturday-Aug 18    1:30 p.m.
Sunday-Aug 19      9:00 p.m.
Monday-Aug 20      7:30 p.m.
Friday-Aug 24        6:00 p.m.
Saturday-Aug 25    9:00 p.m.