Roche Diagnostics and University of Indianapolis partner with Ascend Indiana to create the Roche Academy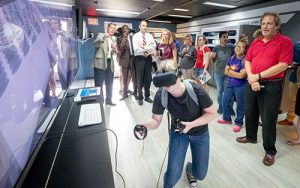 INDIANAPOLIS (August 30, 2018) ─ Roche Diagnostics and the University of Indianapolis are partnering to create a custom talent pipeline for biomedical equipment technicians through the newly created Roche Academy. The partnership was co-developed with Ascend Indiana, a Central Indiana Corporate Partnership (CICP) initiative.
As Roche's customer base continues to grow, the demand for quality and properly trained biomedical equipment technicians continues to increase. These technicians are critical to Roche's operations, as they maintain critical lab equipment and provide customer service across Roche's 32 geographic service regions.

"We have to think differently and more creatively as a company to attract highly skilled talent," Jack Phillips, president and CEO, Roche Diagnostics said. "Through this unique talent initiative, and our partnership with two outstanding community organizations, we will be able to fulfill our employment needs for these positions which are critical to our business."
Through this partnership, the University will recruit biology and chemistry students to join the Roche Academy, where they will complete a Roche-customized curriculum path and summer internship experience focused on the hands-on, life science and engineering skills necessary for employment at Roche. In exchange, Academy students successfully completing the program will receive financial and educational incentives, including a job offer from Roche upon graduation.
"Our supply of skilled workers is not meeting the demand and available talent is often not connecting efficiently with employers who need them," Jason Kloth, president and CEO, Ascend Indiana said. "Through our Ascend Services work, employers like Roche are able to create custom talent pipeline programs that provide a shared value for the company, the educational institution, students and the broader community."
The partnership also allows the University to align its curricula with current industry demands for education and attract new students to the university.
"Partnerships like Roche Academy show how we can develop regional economic advantages, keep higher education connected to the community and help companies meet areas of critical need," said Stephen Kolison, University of Indianapolis executive vice president and provost. "These partnerships are an integral part of the University of Indianapolis' ability to provide our students with distinctive experiences at dynamic organizations and to prepare them for careers in today's complex world."
Ascend, Roche and UIndy will begin recruitment for the first cohort of students in October, with the first class estimated to start employment at Roche in 2020. The Academy is expected to produce 20-25 biomedical equipment technicians for Roche annually.
Roche Diagnostics is the North American headquarters of the world's largest biotech company where more than 4,000 people work together to provide insights that help people around the world manage and improve personal health conditions. It has been part of the Indianapolis landscape since 1964 when it was founded as Bio-Dynamics and later acquired by Boehringer Mannheim Corporation in 1974. Roche acquired Boerhinger Mannheim in 1998 and within three years became the world leader in diagnostics.

About Ascend Indiana
Ascend Indiana seeks to ensure every Indiana employer has access to the skilled workforce necessary to thrive, and every Indiana citizen has the opportunity to pursue a meaningful career. Ascend is a catalyst across industry sectors to help connect the supply of skilled talent to demand from employers through scalable programs and innovative solutions. To learn more, visit ascendindiana.com.
About Roche Diagnostics
Roche is a global pioneer in pharmaceuticals and diagnostics focused on advancing science to improve people's lives. The combined strengths of pharmaceuticals and diagnostics under one roof have made Roche the leader in personalized healthcare – a strategy that aims to fit the right treatment to each patient in the best way possible.
Roche is the world's largest biotech company, with truly differentiated medicines in oncology, immunology, infectious diseases, ophthalmology and diseases of the central nervous system. Roche is also the world leader in in vitro diagnostics and tissue-based cancer diagnostics, and a frontrunner in diabetes management.
Founded in 1896, Roche continues to search for better ways to prevent, diagnose and treat diseases and make a sustainable contribution to society. The company also aims to improve patient access to medical innovations by working with all relevant stakeholders. Thirty medicines developed by Roche are included in the World Health Organization Model Lists of Essential Medicines, among them life-saving antibiotics, antimalarials and cancer medicines. Roche has been recognized as the Group Leader in sustainability within the Pharmaceuticals, Biotechnology & Life Sciences Industry nine years in a row by the Dow Jones Sustainability Indices (DJSI).
The Roche Group, headquartered in Basel, Switzerland, is active in over 100 countries and in 2017 employed about 94,000 people worldwide. In 2017, Roche invested CHF 10.4 billion in R&D and posted sales of CHF 53.3 billion. Genentech, in the United States, is a wholly owned member of the Roche Group. Roche is the majority shareholder in Chugai Pharmaceutical, Japan. For more information, please visit www.roche.com or www.RocheIndy.com.
About University of Indianapolis
The University of Indianapolis, founded in 1902, is a private, liberal arts university located just a few minutes from downtown Indianapolis. UIndy is ranked among the top Midwest Universities by the U.S. News and World Report, with a diverse enrollment of more than 5,500 undergraduates, 1,300 graduate students and 400 continuing education students. The University offers a wide variety of study areas, including 100 undergraduate degrees, more than 35 master's degree programs and five doctoral programs. With strong programs in the health sciences, engineering, business and education, UIndy impacts its community by living its motto, "Education for Service." UIndy.edu