University of Indianapolis announces 2018-19 performing arts season

The University of Indianapolis brings a wide range of diverse cultural activities to the Indianapolis metropolitan area with the announcement of the 2018-19 performing arts season. The institution serves as a destination point for music performances, theatre productions, art exhibitions, readings and lectures, and highlights a progressive arts and musical scene in the region. Fall performances include the Indianapolis Quartet, Artist-in-Residence Raymond Leppard's Gala Opening Concert, the UIndy Jazz Faculty debut and pianist Artist-in-Residence Drew Petersen.

See events.uindy.edu for event details and ticket information.

University Faculty Concert Series is sponsored by Katz, Sapper & Miller. All performances held at 7:30 p.m. at the Ruth Lilly Performance Hall in the Christel DeHaan Fine Arts Center.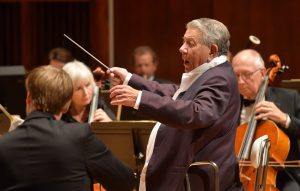 Gala Opening Concert with Maestro Raymond Leppard: Sept. 17, 2018
Featuring Raymond Leppard; Joana Genova, violin; Kathleen Hacker, soprano; Mitzi Westra, mezzo-soprano; Daniel Narducci, baritone; University of Indianapolis Festival Orchestra; University Choral Ensembles.
Maestro Raymond Leppard celebrates his 25th season as artist-in-residence with music of J.S. Bach, Mozart, Britten, and the premiere of his own recently completed song trilogy, "Love's Moonlight." The program opens with Britten's Sentimental Sarabande from the 1934 Simple Symphony, followed by UIndy's Joana Genova performing Bach's E-Major Violin Concerto, BWV 1042. Mitzi Westra and Daniel Narducci will be featured in Mr. Leppard's new song cycle for solo voices, string orchestra, and choir, set to poetry of Thomas Campion and Walter de la Mare. The evening concludes with the glories of Mozart: selections from the Vespers, K. 339, and the Ave verum corpus, K. 618.
Maestro Leppard, one of the most respected international conductors of our time, has appeared with practically all the world's leading orchestras in more than 60 years on the podium. He has conducted more than 170 recordings, earning five Grammy awards, a Grand Prix Mondial du Disque, a Deutsche Schallplattenpreis, and an Edison Prize.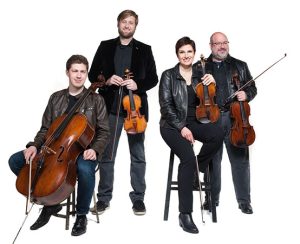 The Indianapolis Quartet: Oct. 1, 2018
Featuring Zachary DePue and Joana Genova, violins; Michael Isaac Strauss, viola; Austin Huntington, cello; with guests Stephen Paul Wyrczynski, viola, and Eric Kim, cello.

The Indianapolis Quartet returns for its third season of "marvelously unified" and "especially expressive" performances (Jay Harvey Upstage). Robert Paterson's award-winning String Quartet No. 1 ("Love Boat") opens the program, followed by the compelling drama of Beethoven's C-minor Quartet from Op. 18. The evening concludes as guests Stephen Paul Wyrczynski and Eric Kim join the Quartet for Arnold Schoenberg's landmark 1899 sextet, Verklärte Nacht ("Transfigured Night"), Op. 4.
The Quartet, which formed in 2016, is the result of a collaboration between the University and the Indianapolis Symphony Orchestra. The project was made possible, in part, through a transformational gift by University trustee and philanthropist Yvonne Shaheen, namesake of the  Shaheen College of Arts & Sciences, and was awarded a $100,000 grant from the Christel DeHaan Family Foundation in 2017.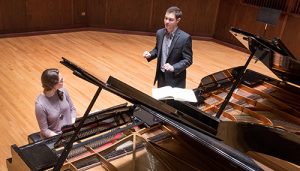 Drew Petersen, piano: Oct. 29, 2018
Acclaimed American pianist Drew Petersen is a sought-after soloist, recitalist, and chamber musician in the United States, Europe, and Asia. In his second year as artist-in-residence at the University of Indianapolis, Mr. Petersen is the 2017 Christel DeHaan Fellow of the American Pianists Association and the recent recipient of a prestigious Avery Fisher Career Grant. He has been praised for commanding and poetic performances of the repertoire ranging from Bach to Zaimont. His October solo recital will feature music of Mozart, Beethoven (the Appassionata Sonata, Op. 57), and Liszt (including the rarely performed Illustrations du Prophète de Meyerbeer).
Other fall highlights include the UIndy Jazz Faculty Debut on Sept. 24; a rare exhibition of the works of Wilbur D. Peat at the Christel DeHaan Fine Arts Center Gallery Sept. 10-Oct. 5 (reception: Sept. 24); Kellogg Writers Series fiction reading by John Jodzio Oct. 3 at the Schwitzer Student Center; and "It's a Wonderful Life, The Radio Play" Nov. 30-Dec. 8 at the Studio Theatre in Esch Hall.

See a complete list of the UIndy 2018-19 performing arts season at events.uindy.edu.