MICI-AHEC receives 5-year, $3M national grant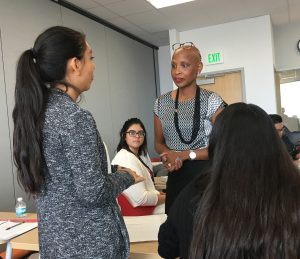 The Metropolitan Indianapolis Central Indiana Area Health Education Center (MICI-AHEC) recently received a five-year, $3.2-million Health Careers Opportunity Program (HCOP) grant award from the National HCOP Academies.
Hosted by the University of Indianapolis since 2014, the work of MICI-AHEC is to introduce people from underserved populations and geographic areas to health careers in an effort to return skilled health professionals to those areas. The Health Careers Opportunity Program is one way that MICI-AHEC achieves that goal.
MICI-AHEC Executive Director Erica Young explained the significance of the grant as well as how the organization's ongoing partnership with UIndy has been beneficial to both organizations and to the students they serve.
"Working with faculty and programs already in place at UIndy allows us to not 'reinvent the wheel,'" Young said. "We currently have six programs under our HCOP umbrella. Our partnership with UIndy means that we don't have to run all of those programs ourselves, which allows our staff the time and energy to work on other initiatives."
The six AHEC programs include:
College Prep Academy

, which is open to high school students interested in careers in health. The 20-week program takes place at UIndy on Saturdays.

Hoosier Health Academy

is open to high school students interested in health or STEM careers. The six-week program takes place at UIndy during June and July.

Undergraduate Summer Research Institute

in which undergraduate students are paired with a UIndy faculty preceptor in a STEM or health-related field.

Pathways to Adult Learning

is aimed at working adults who want to complete a bachelor's degree in a health-related field.

Pre-Health Certificate Program

, for students who have received or are close to finishing their bachelor's degree, is an 18-credit hour program designed to increase a student's competitiveness for applying to graduate health professions programs, such as physical or occupational therapy. UIndy biology professor Dr. John Langdon heads up this program as part of the Master of Science in Anatomical Sciences program.

Integrated Behavioral and Mental Health

prepares undergraduate students and the existing community health workforce for graduate programs in social work or behavioral health with an emphasis on substance abuse and opioids addiction.
"The MICI-AHEC/UIndy partnership introduces motivated high school students to the university; provides value-added services and education to current UIndy students; and prepares students to be successful in graduate health programs – many of them right here at UIndy," Young said.