Alumni Award recipient Judge Michael Shurn '71 to speak at UIndy Nov. 5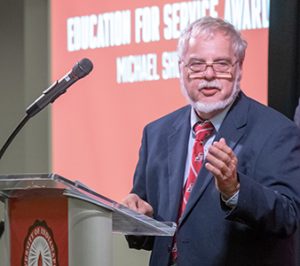 Pulaski County Circuit Court Judge Michael Shurn '71 will provide a lecture on Monday, Nov. 5, 2018 as part of the Pre-Law Student Association (PLSA) Judicial Lecture Series. The free event, which is presented by the University of Indianapolis Pre-Law Student Association, takes place at 7 p.m. in the Schwitzer Student Center, UIndy Hall A. L/P credit is available.

Judge Shurn will discuss his broad range of experience, including civil, criminal, administrative, juvenile and probate law, and his familiarity with the many aspects of life that the law touches.
"As judge of a court in rural Indiana, I've seen cases from splitting Tupperware to first-degree murder.  You see it all. The good, the bad, the ugly, and all the secrets blowing in the winds of Hoosier cornfields," Judge Shurn said.
Judge Shurn graduated from the University of Indianapolis in 1971 with a degree in English and later earned his J.D. from Indiana University. He was recently honored with the University's Education for Service Award, which recognizes an alum whose life work exemplifies a fulfillment of the philosophy underlying the University's motto "Education for Service."
"With over 40 years of experience in the law, many of them sitting on the bench, Judge Shurn is a wealth of knowledge not just for those interested in pursuing a legal career, but for any student who plans on entering the professional workforce," said Dr. David Root, assistant professor of political science and pre-law advisor.

Dr. Root explained the need for legal professionals in rural areas, and noted that lawyers working in those locations tend to take on a bigger role in the community compared with their urban counterparts.
"Because of their education, professional position and representation of people in the community and government offices, they have access to important information and connections that spread deeply through their locale," Dr. Root said. "Additionally, because of the nature of rural practice, such lawyers tend to see a lot more variety in the cases and matters that they handle on a day-to-day basis."

About Judge Shurn
An avid community volunteer, Judge Shurn has worked extensively with the Pulaski County Historical Society, Boy Scouts, 4-H, Winamac Kiwanis Club and his church, which earned him the 2011 H.J. Halleck Award for community service. He also served six years on the University's Alumni Board of Directors and remains active in UIndy events. Michael and his wife, Mary, have two children. Their daughter, Megan, is a 2003 UIndy graduate.
The lecture is free of charge. Registration is encouraged. Contact Dr. David Root at rootd@uindy.edu.