UIndy excels at Model United Nations Conference

Congratulations to the University of Indianapolis team participants in the November 2018 Model United Nations Conference at Indiana University, Southeast.
The Model UN is a simulation exercise organized by the Indiana Consortium for International Programs and numerous universities from Indiana and Kentucky participated this year. UIndy turned in an exceptionally strong performance and won several awards.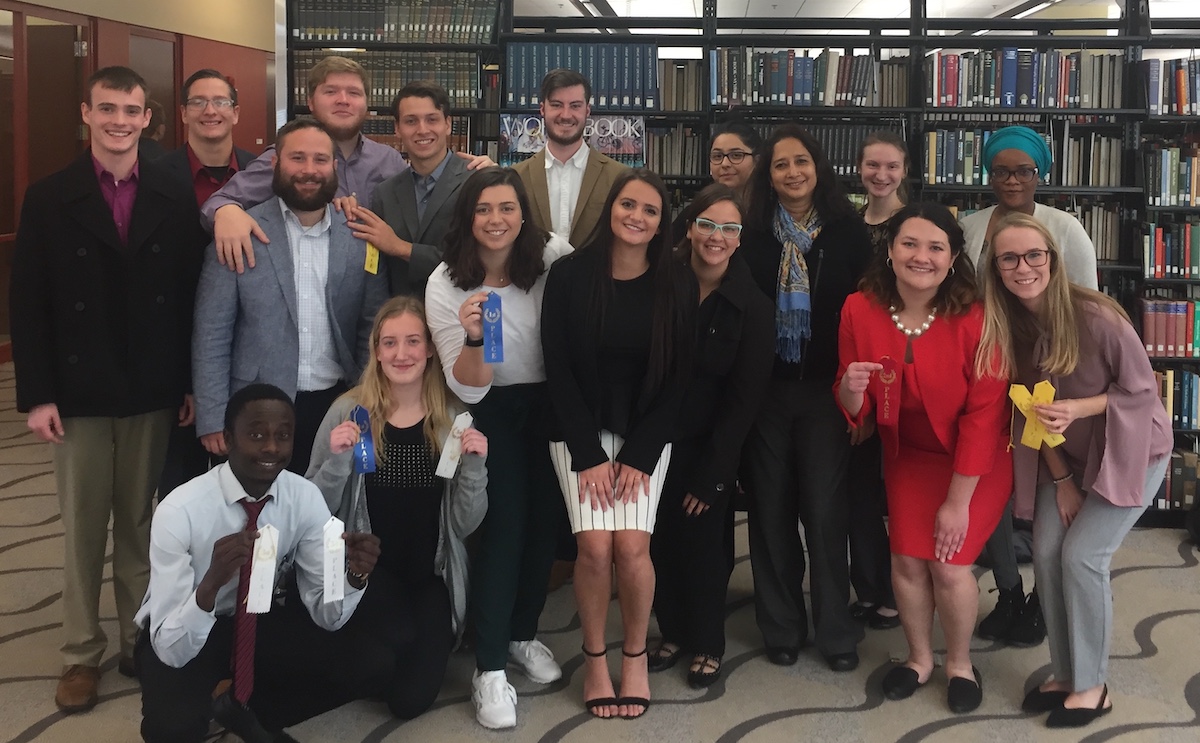 The students were from the department of history and political science, majoring in international relations, political science and history:
Council #1 – Chair Kaitlin McDonald
Drake Abramson and Hilary Bauer: France
Claire Green and Mason Hamilton: United States
Tobiloba Olakundle and Liz Perez: Bolivia
Eric Kabuthia and Zuzanna Michalak: Peru
Council #2 
Taylor Carpenter and Bryan Comer: France
Kegan Prentice and Halle Risinger: Bolivia
Nathan Schmitt and Evan Smiley: Kazakhstan
Emma Kieffer and Reagan Kurtz:  Poland
Best Delegations Award: (Out of 30 delegations in two different councils)
Best Delegation: Reagan Kurtz and Emma Kiefer representing Poland (Council 2)
3rd Best Delegation: Zuzanna Michalick and Eric Kabuthia representing Peru (Council 1)
4th Best Delegation: Mason and a Claire representing USA (Council 1)
Best Delegate Award (Out of approximately 60 delegates in two different councils)
Council 1
2nd best delegate: Hilary Bauer representing France
3rd best delegate Claire Green representing USA
Council 2
3rd best delegate: Reagan Kurtz representing Poland
4th best delegate: Nathan Schmidt representing Kazakhstan