UIndy Speech and Debate Team is tournament champion at Muskingum University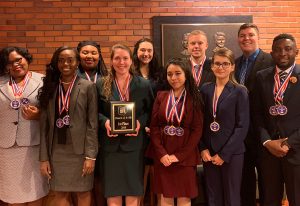 The University of Indianapolis Speech and Debate Team earned a big win recently at Muskingum University's Tournament in New Concord, Ohio. Overall, the team placed first, earning the title of tournament champions. In addition, two students earned top marks and were named tournament champions in individual events.
The UIndy Speech and Debate Team is a nationally ranked learning community that competes in speaking events to enhance students' communication, research and public speaking skills. Stephanie Wideman, assistant professor, serves as the team director.
"Coming in to my second year as the director of the team makes this win even more special. It displays our continued growth and commitment to excellence," Wideman said.
Shayla Cabalan '20 (Communication and English) earned first place in the event of Radio Broadcasting. Of her experience with the team she noted, "Speech and Debate, in my opinion, is one of the most honorable ways a student can represent the university. As a whole, speech and debate involves speaking on important topics, starting crucial conversations, and creating a dialogue for change."
Sierra Roberts '21 (History and Social Studies Education) earned first place in the event of After Dinner Speaking. "Being a part of the team has taught me several valuable lessons, most notably it plays a vital role in preparing me for my future. As a future educator I will use many of the skills I have learned through teaching in my own classroom," she explained.
In addition to Cabalan and Roberts' success, the entire team turned in strong ranks. See the full results below:
Festival Storytelling
Kaylee – 3rd
Poetry
Landon – 4th
Taylor – 5th
POI
India – 2nd
Shayla – 3rd
Kaylee – 4th
ADS
Sierra – 1st
Broadcast Journalism
Shayla – 1st
Dramatic Interpretation
Landon – 2nd
Extemp
Craig – 5th
Impromptu
Craig – 3rd
Prose
India – 2nd
Persuasion
Taylor – 2nd
Shayla – 3rd
Craig – 5th
Info
Kay 4th
Mel 3rd