OT alum's career has gone to the dolphins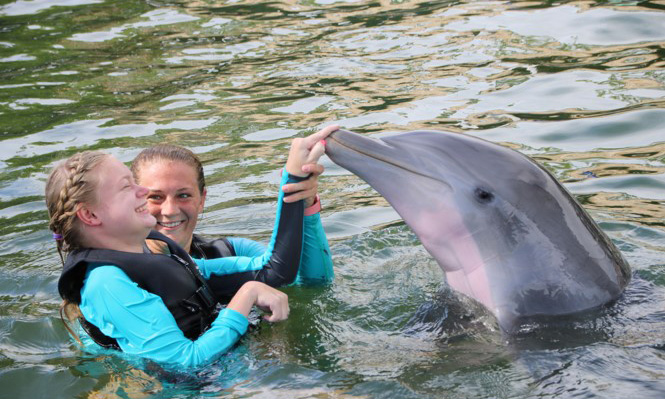 Students in the University of Indianapolis Doctor of Occupational Therapy (OTD) program each complete a 14-week, self-directed Doctoral Capstone Experience and Project (DCE) that allows the student to develop in-depth skills in an area of practice they hope to pursue after graduation. The experience left 2018 OTD graduate Taylor Millar all wet. Literally.   
The first step in the DCE process is for OTD students to identify how their personal interests and goals can match with a facility that displays need somewhere in the country.
"My two interests throughout graduate school were pediatrics and community settings, including adaptive sports and animal therapy," Millar said.  "My Google search for these two terms led me to Island Dolphin Care in Key Largo, FL. When I found the website and began reading through their mission and looking at photos, I knew this was the place I wanted to do my DCE. It was a perfect match, honestly."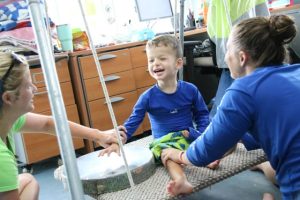 "The doctoral capstone project allows our students to get out of the classroom and put their newly-formed therapeutic knowledge into practice for people and organizations who need the unique perspective of OT," said Julie Bednarski, assistant director of the UIndy School of Occupational Therapy and OTD capstone coordinator. Students work with Bednarski, a faculty mentor, and a site mentor to design an immersive learning experience.
Millar knew that her unique perspective in OT could increase the scope of Island Dolphin Care (IDC), a small, non-profit, family-run facility. Started by parents who realized that interaction with dolphins motivated their three-year-old son to use his left side affected by a stroke, Deena and Peter Hoagland reasoned that the dolphins could therapeutically motivate all children with a variety of conditions and physical abilities.
"My DCE project was to explore the role of occupational therapy in this non-traditional practice setting along with developing a home program for parents to increase carryover of skills after participation in a dolphin-assisted therapy program. I did research to obtain the developmental skill areas that should be addressed within a general therapy-based home program."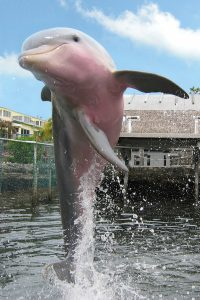 Today, IDC provides dolphin-assisted therapy for children, adults, and veterans with special needs. Trained therapists, like Millar, use traditional practice methods to address the goals identified by the family including gross motor skills, fine motor skills, communication, self-esteem and independence.  
"These goals are addressed in both classroom sessions and water sessions with the dolphins," explained Millar, who now works full-time for IDC. "We use art therapy and the dolphins as a motivator to work on various skills in the classroom like fine motor, communication, and sensory integration. Then immediately following the classroom session we go outside and swim with the dolphins in a natural saltwater lagoon, working on the same goals addressed in the class."
These interventions are organized during a 5-day program that is attended by families from all over the world, including Germany, Hungary, and Switzerland, which added richness to Millar's DCE experience.
"Interacting with and learning to understand other cultures was also very rewarding,"Millar said. Learning to be culturally sensitive was not an easy task, but it's so important to adapt therapy based on culture and diversity."
As much as the daily interaction with the dolphins seemed like a dream come true, the most rewarding piece of Taylor's experience in Key Largo was the change she was able to facilitate within the clients and how that affected their whole family.
"Coming into this experience, I questioned how much progress could be made in a week," Millar admitted. "But during my first week here I realized I was so wrong."
Millar described a client with cerebral palsy who had difficulty communicating her needs and wants to her parents due to weak muscles in her mouth.
"During her week here, we introduced an eye gaze computer. First, we used it to say hello to everyone and on her first try she made great eye contact with the computer to get the machine to say hello for her," Millar said. "Later in the week, we used the eye gaze for choice-making; she chose who she wanted to help her between her mom and her dad. The parents had tears and the client was so happy she could finally express herself. Experiences like these made the DCE experience and (eventual) employment the most rewarding experience of my life."
To future students, Millar passes on a final piece of advice in seeking a DCE experience, "Find something that you are passionate about."
Written by Olivia Horvath '20 (OTD)