UIndy Department of Theatre performs Christmas favorite "It's a Wonderful Life" as radio play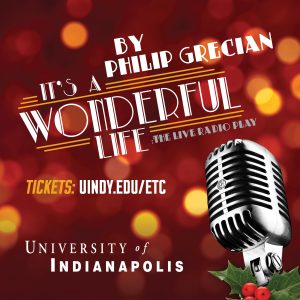 Audiences are in for a surprise as the University of Indianapolis Department of Theatre offers the Christmas classic "It's a Wonderful Life, The Radio Play" by Philip Grecian for the annual fall performance Nov. 29-Dec. 8.
Kyle A. Thomas, director and associate adjunct, said to expect the high energy of an interactive experience and lots of creative sound effects in real time.

Thomas explained that this version of "It's a Wonderful Life" was written specifically as a radio play, so it will differ from a typical theatrical performance. It's more like stepping into a studio with the actors as they perform the radio drama in front of a live audience.
"What we're doing is an immersive theatre piece. The boundary between the show and the audience is essentially erased. The audience is a part of the entire performance experience," Thomas said. "It's a more exciting take on the story than what you might expect!"
Zech Saenz '19 (theatre education), plays the lead character, George Bailey. He said the radio play format forces the actors to focus on creating their characters through subtlety and nuance, without relying so much on movement.

"We don't have to play to the audience as we would if this were a stereotypical show. We get lost in dialogue and develop our characters through our vocality and, although minimal, there is some physical characterization as well," Saenz explained.
While the 1946 film has long been regarded as a Christmas classic, the danger of being forgotten increases as new favorites crowd streaming services. Roci Contreras '20, a theatre minor, was thrilled to be part of a cast bringing the story to a younger generation. She plays the roles of Mrs. Hatch and Mrs. Thompson.
"'It's a Wonderful Life' is one of my favorite classics and its message of appreciating life is renewable always, even beyond the holiday season," Contreras explained.
"I am completely honored to be portraying such an iconic role on stage," Saenz added. "George Bailey is such a dynamic character and his evolution is very much a relatable story. His mindset of helping others and being a friend to everyone he meets is a real inspiration to me."

Thomas hopes that the sense of community emphasized in the story will resonate with younger audience members. And more seasoned theatre fans will appreciate the nostalgia of an old favorite.
"There are aspects I hope every audience member can gravitate towards, not just in the performance but also in the space," Thomas said, explaining that the performance will give a nod to the history of WICR, which is planning to broadcast the play on Nov. 28 and on Christmas Eve.

While "It's a Wonderful Life" provides a snapshot of American life that is now part of history, Thomas said, performing the play in 2018 is a chance to tap into the diversity not just of the theatre department but of the broader community.
"You're going to see people playing characters you might not necessarily expect to be representative of the way those characters have been done," he said.

"It's a Wonderful Life" carries an important message in the idea that worth is not necessarily a monetary figure.
"What's great about a play like this is that with George Bailey, you can't put a price on what he means to the community," Thomas said. He hopes that lesson resonates with theatre-goers as they reflect on the sense of belonging that the holiday season emphasizes.
"That's the American experience that we're trying to bring out," Thomas said.
"It's a Wonderful Life, The Radio Play" performance schedule
Free preview: 8 p.m., Nov. 29
8 p.m., Nov. 30, Dec. 1, Dec. 7-8
2 p.m., Dec. 2
Tickets: $10-$12
L/P credit approved