UIndy School of Education sends large contingent to Kappa Delta Pi Convo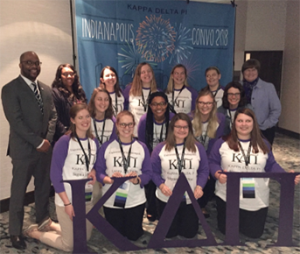 Nearly a dozen School of Education students from the Sigma Omicron Chapter of Kappa Delta Pi attended the 2018 Kappa Delta Pi International Convocation in Indianapolis in November, led by Nancy Steffel, professor of teacher education. School of Education Dean John Kuykendall also attended, along with other faculty and alumni.

As the Lucinda Rose Award winner for Counselor Excellence 2017, Steffel presented the counselor regional awards. Steffel served as counselor of UIndy's KDP Sigma Omicron Chapter for 20 years, an achievement which also was acknowledged by her induction in 2017 into the Eleanor Roosevelt Society. The two new counselors who will take her place, Brittany Dyer, career navigator with the Professional Edge Center, and Jennifer Grace, assistant professor of teacher education,  joined Steffel at the KDP Convocation.

"With the Convo being held in Indianapolis this year, I felt it was important that our KDP members be Indy conference ambassadors and co-present in workshop sessions alongside our outstanding faculty. UIndy teacher candidates continue to be some of the most attractive students for jobs in the teaching profession. Dr. Steffel and Dr. Grace are doing an exceptional job creating high-impact opportunities for our KDP members," said Dr. Kuykendall.

Chapter officers included elementary education seniors Marissa Ellsworth, Mackenzie Atto, Cassidy Smith, Grace Kinsey and Leanna Leatherbury '19 (history). Chapter officers-elected included elementary education juniors Kiley Tompsett, Teyler Siples, Brianna Brechbuhl, LaShonica Smith, Olivia Page and Jacqueline Krall. Other participating faculty included John Somers, Department of Leadership & Educational Studies co-chair, Angie Ridgway, professor of teacher education, Deb Sachs, Teach (STEM)³ program director and Donna Stephenson, instructor.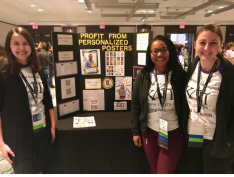 Students and faculty presented poster sessions and had the opportunity to hear renowned educators speak on a variety of different topics including STEM education, literacy strategies and sustainability. Mackenzie Atto '19 said she appreciated the chance to network with educators ranging from Indianapolis to international locations like Nigeria and Uganda.

"This conference opened my eyes to the diversity of education around the world. There is so much variety in teaching around the world, yet we all share the same passion for education," Atto said.
KDP President-elect Kiley Tompsett '20 found the breakout session on student teaching particularly informative.

"The idea that stuck out the most was that I might have a different teaching philosophy or teaching style than my cooperating teacher, but I will still learn so much about what to do or even what not to do in my future classroom," Tompsett said.

For Nancy Steffel, the convocation capped off a career of inspiring excellence in the University of Indianapolis School of Education.

"My hope is that I have laid a history of Kappa Delta Pi Sigma Omicron excellence that can be continued by future members, faculty, and counselors," Steffel said. "Over the past twenty years, our chapter was awarded & consecutive ACE (Achieving Chapter Excellence): 2005, 2007, 2009, 2011, 2013, 2015 and 2017 and received the top award, Dr. Florence B. Stratemeyer Award for Chapter Excellence 2013. We have become one of the top chapters of the over 660 chapters worldwide. Although we are a small chapter, we are mighty!"
UIndy students and faculty presented the following poster sessions:
"ACE to ACE: Accentuating Chapter Experiences to Achieve Chapter Excellence" Presenters: Kiley Tompsett, Teyler Siples, Brianna Brechbuhl & Oliva Page, Sigma Omicron Chapter
"Profit through Personalized Posters" Presenters:, Leanna Leatherbury, LaShonica Smith, Cassidy Smith, Jacqueline Krall, Sigma Omicron Chapter.
"Teaching Coding with SCRATCH and Seesaw" Presenters: Mackenzie Atto, Marissa Ellsworth, Grace Kinsey, Seniors, and John Somers, Sigma Omicron Chapter.
"Engagement, Connections, and Motivation: Designing Effective Lessons for All Content Areas" Angelia Ridgway, Donna Stephenson, Deb Sachs, Sigma Omicron Chapter.
"Adolescent Brain: What's Going On In There?" Deb Sachs, Sigma Omicron Chapter.
Learning Lab for all undergraduates on Education for Sustainability, co-presented by Nancy Steffel and Faye Snodgress.