Etchings Magazine hosts launch party Dec. 7 for Issue 31.1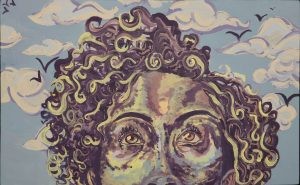 The University of Indianapolis Etchings Literary and Fine Arts Magazine is gearing up for the December launch of Issue 31.1. The campus community and alumni are invited to attend a launch party from 5 to 7 p.m., December 7, 2018, in Schwitzer 013, featuring food and live music. L/P credit is available and contributors will share their work.
Etchings Press is a student-run press, advised this term by Liz Whiteacre, assistant professor of English. Student editors are responsible for overseeing submissions, ensuring a blind submission process and communicating with authors.

The Etchings Press staff are already celebrating a great year, which included a first-place win in the 2018 American Scholastic Press Association's review and competition for the 30.1 and 30.2 editions. Read more here.

"We have a strong team of energetic editors who have produced another excellent issue and engaged with new partners on campus. I think our campus community and alumni will be pleased," said Whiteacre, "as the magazine evolves, writers, artists, and readers will find new ways to engage with the arts."
Managing editor Jessica Marvel '20 (creative writing major, studio art minor) said her experience at Etchings Press has helped develop her critical analysis skills.
"Because I've read so many works, I can pick up better on what doesn't work and what does," Marvel said. "This is my fourth semester working with the magazine, and the more I dive deeper into this, the more I know that I want to work in publishing in the future."
Etchings Press staff said they learn to appreciate the craft of editing and curating content that goes beyond writing and grammar.
"There is an art to creating something like this. I also have developed an appreciation for poetry and visual arts that I did not have before working on the magazine," said Shannon Harris '19 (M.A., English), prose editor.
Issue 31.1 features short stories, prose, poetry, photography and paintings. Editors shared their favorites, including a poem entitled "Dad" by Shauna Sartoris '19 (double major, professional and creative writing, literary studies minor), who is also the Etchings Press business and promotion director.
"The specific, touching details of ["Dad"] stick with you as a reader. You remember the narrator's father not as some generic dad but as that dad, the one who brews coffee beans from Kenya and watches woodworking shows, maybe the one who reminds you of your own dad," explained Kylie Seitz '19 (English), editor in chief.

Fans can pick up a copy of Etchings Magazine Issue 31.1 at the Krannert Memorial Library Ask Desk after December 7, 2018  or become a Friend of Etchings Press and receive an end-of-year newsletter, Etchings Magazine issues 31.1 and 31.2, and the 2019 book prize winners to thank friends for their contribution. Learn more how to support our student-run press. Copies will also be available at the launch party. Connect with Etchings Press on Instagram, Facebook, or Twitter at @uindyetchings for updates.