More than 400 students attend annual Lugar Leadership Symposium Dec. 8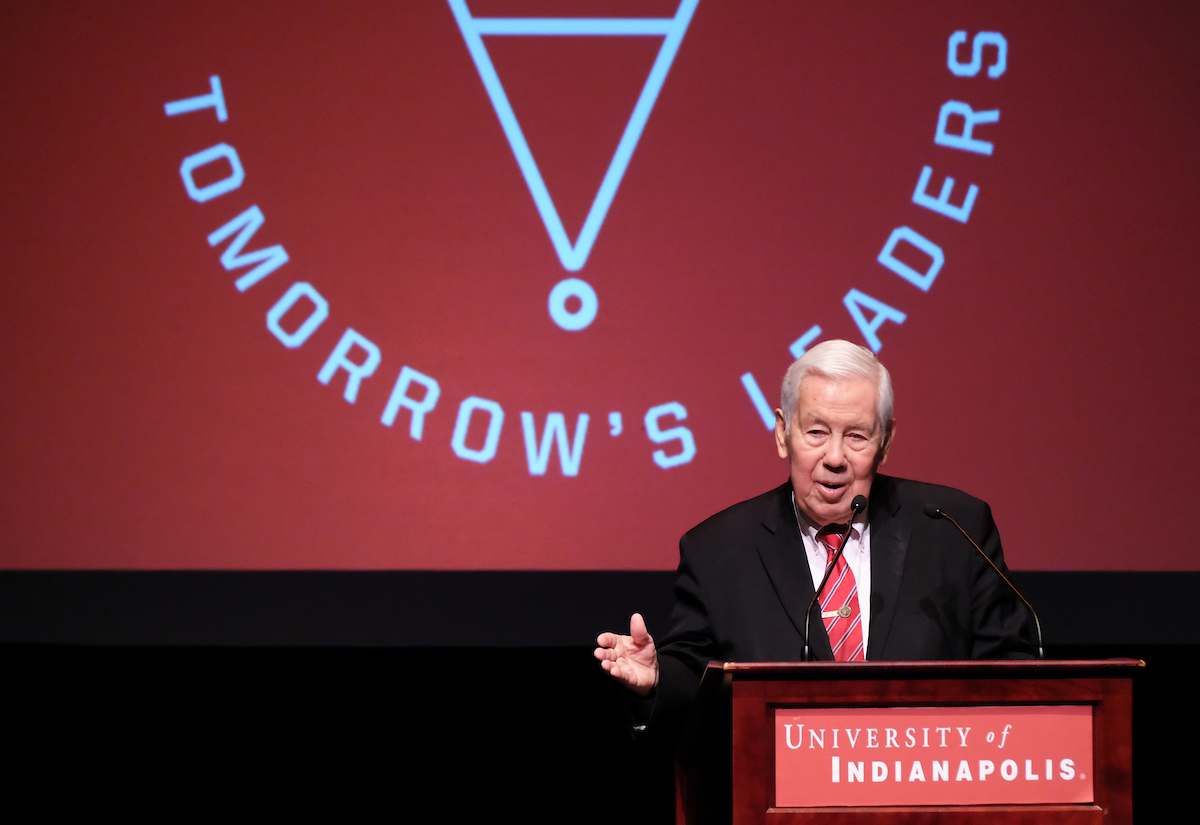 More than 400 high school juniors from 70 counties across Indiana attended the 42nd annual Richard G. Lugar Symposium for Tomorrow's Leaders at the University of Indianapolis.
Former Sen. Richard G. Lugar gave the keynote speech on why the climate change agreement, NATO, and free trade agreements matter, adding he hopes that political leaders and citizens alike understand how "fundamental the continued success of NATO is for our security and the security of the world."
Schools from across the state select three students to attend the Symposium each year. More than 400 students from 70 counties across Indiana participated in 2018. The event offers students a chance to gain valuable insight from Lugar and explore the current state of national and international issues. The event exposes some of the brightest young minds in Indiana to the complex issues facing the country and world. In addition, students are able to visit with Lugar personally, providing them lessons in leadership and community service.
Students participated in afternoon discussions on topics including:
U.S. Leadership in the World
Resident Aliens: Immigration and Refugees in the U.S. and Abroad
North Korea and Nukes: Is There a Solution?
Me Too: Politics & Social Movements
Learning from 2018 and Looking to 2020: The State of American Politics
the 100th Anniversary of the Armistice ending WWI
The event also recognized Charles C. Chiang of Zionsville Community High School as this year's recipient of the Richard G. Lugar Distinguished Student Leadership Award. The $1,000 award recognizes one Indiana high school senior each year for leadership and community service activities.
After two terms as Mayor of Indianapolis, Lugar served for 36 years in the U.S. Senate, including leadership roles in the Committee on Foreign Relations and the Committee on Agriculture, Nutrition and Forestry. He is the current president of The Lugar Center, a nonprofit organization based in Washington, D.C. that convenes thought leaders on topics such as global food and energy, security, governance and international aid programs.
More information on the Symposium can be found here. 
About the Lugar Academy
More than 15,000 promising students have participated in the Lugar Symposium during the past 40 years, including nearly 500 students last year, gaining wisdom, insight and access to some of the finest minds available. Principals from every high school in Indiana are asked to select three outstanding student leaders from their junior class to attend the Symposium. Lugar is a Distinguished Trustee, a former professor of political science and holds an honorary degree from the University of Indianapolis. The symposium that bears his name was launched in 1977 as an opportunity to discuss with students topics of local and global importance.