Senior spotlight: Chloe Wahl, biology / chemistry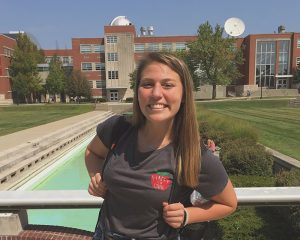 Leading up to December commencement, we'll be featuring stories & reflections from the senior class. Chloe Wahl '19 is a biology and chemistry double major with a concentration in pre-medicine. She will attend Indiana University School of Medicine in fall 2019.
Q. What student groups or activities have you been involved in during your time at UIndy?
A. I have tried to stay active at UIndy in a variety of groups. One of my main interests has been the University of Indianapolis Dance Marathon, a group that raises money for Riley Hospital for Children throughout the year. I have been on the leadership board since my freshman year and have enjoyed helping grow the program and shape it into what it is today. My experience with UIndy DM has been inspiring to me because I get to be a part of something that is bigger than myself and I realized how much we can really make a difference in this world. I will cherish the friendships I have made with Riley families and peers forever.
I am also a Greyhound Ambassador and give tours on campus. I have been giving tours since my freshman year. This experience has helped me grow socially and taught me how to communicate with a variety of people. I started the Presidential Ambassadors program last year and have enjoyed my experiences so far: from working graduation last May to helping with different events on camps and learning leadership skills.
I started independent microbiology research this summer with Dr. [Doug] Stemke. I am testing antibiotic resistance in rural Southern Indiana agriculture and how this could affect humans. I have been able to do a lot of the experimentation on my own and this has taught me so much. I enjoy getting to be hands-on and explore a topic that is interesting to me.
Delight Ministries has also been a group that has been important to me throughout the years. It is a women's ministry group that focuses on creating a community where you can grow in faith and make friendships with other women who have the same values as you. Delight has pushed me to take a more active role in my relationship with God and the women involved in it are so kind and welcoming.
Q. What internships have you completed as a student?
A. I have had several internships the past four years, including one at Forefront Dermatology and one at Seymour Eye Clinic. I started working at Forefront the summer after my freshman year and I had a similar role to the medical assistants, pulling patients back to room and asking them how their skin condition was or what their concerns were, filling out the charts, and preparing the patients for treatments they may have done. I also got the opportunity to assist in surgery several times. This internship opened my eyes to the passion I have for medicine and patient care. Learning how to interact with patients was so valuable and seeing how a clinic is run and all the connecting pieces interested me. My medical vocabulary also improved.
While working at Seymour Eye Clinic I was able to do the preliminary tests with patients such as doing the original vision screening, checking the pressure of the eyes, taking pictures of the back of the eyes, and completing the autorefraction reading. I once again was able to have one on one interactions with patients and learned how to use many different pieces of equipment. Learning how to navigate different computer systems was also valuable.
Q. What are your plans after graduation? What's your dream job?
A. My plans are to attend Indiana University School of Medicine in Indianapolis in the fall of 2019. I am so excited to start this new adventure and feel blessed that UIndy prepared me so well for this next step. My dream job one day would be to become a dermatologist. With my experience at my internship the past three years and my interactions with the patients and medical providers, I feel that this path is right for me. The medicine behind skin conditions is very interesting to me and I love the close relationships that it creates with providers and patients.
Q. Is there anyone at UIndy who had an impact on you?
A. Dr. [Joe] Burnell has been an amazing professor and role model throughout my time at UIndy. I have never felt so much support and encouragement from a professor before and it helped me get through his tough classes. I was fortunate enough to have Dr. Burnell for six semesters while at UIndy, for general chemistry, organic chemistry, and biochemistry. I look back at his classes and remember how passionate he was about teaching and helping his students become successful. There were many times I would go to his office with concerns about my future and if I was choosing the right career. He always knew how to reassure me and encourage me to do what makes me happy in the end. Dr. Burnell is such a special professor and person, and embodies what make UIndy so great.
Stephanie Kendall-Deitz in the Professional Edge Center has been a great support and resource my four years here. She helped set up several shadowing opportunities and networking events that helped me grow in a professional setting. I went to her many times to help me fix my resume and navigate my future career. The Professional Edge Center, with Stephanie taking the lead, also set up an MCAT prep class at a reduced price that was extremely helpful. Her interview preparation was enlightening and helped me feel more prepared for my medical school interview. I often get emails of encouragement from Stephanie or nice messages that remind me why I came to this school and why it feels like home.
Dr. Stemke has been helped me the past year to be successful in classes and in areas related to graduate school. I had him for microbiology last year and immunology this semester. I am also working with Dr. Stemke to complete my independent research, which is my capstone class for my biology major. I was also able to do a mock interview with Dr. Stemke before my medical school interview and he helped me improve my answers and approach to questions. Dr. Stemke is a very kind and considerate professor who does all that he can to help his students get to where they want to be.
I have been fortunate enough to make a group of friends on campus who have helped me through all aspects of college and life. We actually all met our first week of school freshman year and have remained close since. The value of having a constant support system and group that truly cares for you is indescribable. These are friends that I can thank UIndy for and friends that will last long after we leave.
Q. Would you recommend UIndy's biology program to prospective students?
A. I would recommend the biology program to other students because I have had such a positive experience with it. The faculty is so dedicated to their students and work hard to constantly improve the learning experience. They emphasize the many opportunities there are to do research and help students to find what their interests are. The biology and chemistry departments on campus are full of smart, talented professors who always put their students before themselves and strive to pass on their passion for learning to them.
8. Final thoughts as you look back on your time at UIndy?
A. It is honestly crazy how fast time has gone here at UIndy. I look back and think of the many fun times I have had, the friends I have made, and the all that I have learned, I feel blessed. University of Indianapolis truly feels like home and it is strange that my time here is almost done. I will remember UIndy fondly and look forward to coming back to reminisce on all the good times I had.