University of Indianapolis students give back for Christmas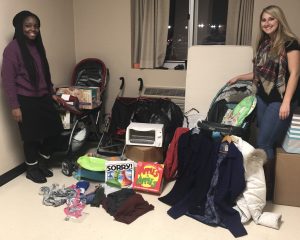 Ashlie Raible '20 (psychology major, child and youth programming minor) knew she wanted to make a difference for families in need this Christmas. She started saving up in September, and her youth group leader soon connected her with a child who needed basic necessities – and Christmas gifts.
"Helping one child soon turned in to helping four families and before I knew it, I had a whole group of generous individuals to help me," Raible said.
Raible was moved by the thought of families struggling to provide a gift under the tree Christmas morning. Her fundraising efforts brought in dozens of donations, including gift cards, a microwave oven, clothing, games, toys and more than $550 in cash.
"There was no doubt in my mind that I needed to do something like this. After all, how blessed am I that I have the opportunity to bless others in need?" she said.
Raible's roommate, Terykah Walker '21 (nursing), helped organize and deliver the donations. Raible says the culture at the University of Indianapolis sets the tone for community engagement and giving.

"I think overall UIndy sets a great example about what it means to give back to the community. UIndy is always finding ways to help those in need. It's part of the culture here," she explained.

"Ashlie's positivity and generosity are boundless and infectious. She is the type of student you want in your classroom, the type of friend with whom you want to be friends, and the type of colleague with whom you would choose to work," said Peter Nichols, Raible's music instructor.
Raible, who has a concentration in occupational therapy, hopes to continue her studies after graduation and hopes to work as an occupational therapist at a school. The University motto, "education for service," factors significantly in her plans.
"Along with my career, I want to continue finding ways to help out individuals in my community. My dream is to one day open a facility where families can go to seek support, short-term housing, hot meals and any other assistance they may need," she said. "As much as I want to be an occupational therapist, it's not my main priority in life. I think helping those in need is one of the most rewarding things in life, so that is what I am going to strive to do."