UIndy student mentors give back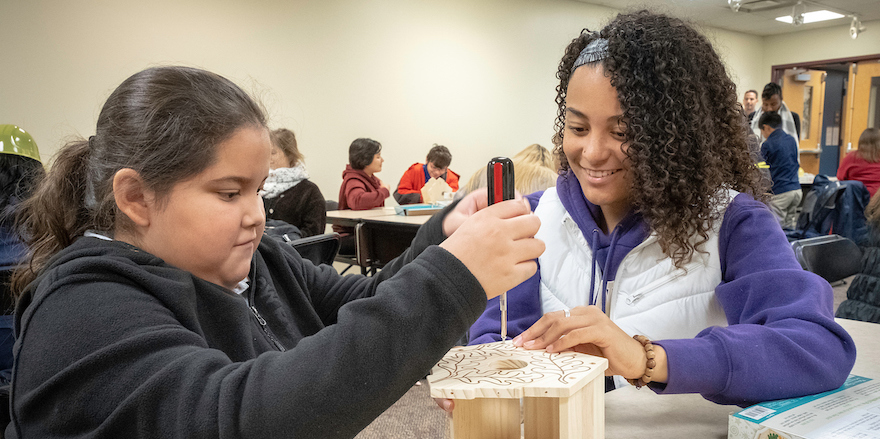 Community engagement is an important part of the student experience at the University of Indianapolis. Here's one recent example:
In November 2018, about 90 students from the UIndy chapter of College Mentors for Kids partnered with F.A. Wilhelm Construction (Wilhelm) to teach local kids about estimating, planning, safety and other aspects of construction.
For two days, nearly 100 elementary students from southside schools and their UIndy student mentors met with volunteers from Wilhelm to learn all the steps in constructing a building, which included making their own birdhouses.
"The activity that Wilhelm provided our little buddies was an incredible learning lesson in a career field that many of them might not have known much about. It opened their eyes to the possibilities they all have," said Taylor Lahrman '20 (marketing), who is president of the student organization at UIndy.
In 2019, Lahrman said, College Mentors for Kids has many great activities planned that revolve around culture and diversity, community service, and higher education. The group is recruiting new members who are available to volunteer on Tuesdays or Wednesdays, along with a few officer positions. Apply here
"Being involved in College Mentors for Kids has shown me that every child deserves to have a role model," said Lahrman. "A mentor is meant to be a person they build a bond with, learn from, and look up to. I would've loved to have this when I was in elementary school, so being able to give back to those who need it most is one of the best things someone can do."
College Mentors for Kids is one of many community partner organizations providing hands-on learning experiences for students. The University of Indianapolis Center for Service-Learning & Community Engagement hosts partner fairs and forums each semester to highlight volunteer opportunities and showcase students' work. The next community partner fairs take place from 11 am – 1 pm on Thursday, January 17, Wednesday, January 23 in the Schwitzer Student Center and Thursday, January 24 in the Health Pavilion lobby.
Learn about other community service organizations on campus