Mission Matters #50 – Recalling the Late 1950s Student Experience of Robert Frey '60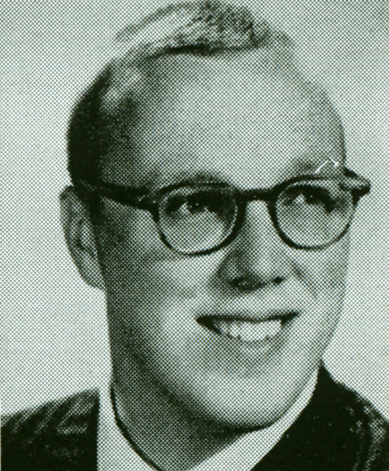 This academic year we are reflecting on the student experience of different generations of alumni and current students. This month's Mission Matters focuses on 'the ICC student experience' in the late 1950s.
By Michael G. Cartwright, Vice President for University Mission and Associate Professor of Philosophy & Religion, based on the autobiography of Robert Frey, Ph.D '60 used by permission of Brenda Frey Kraner, Ph.D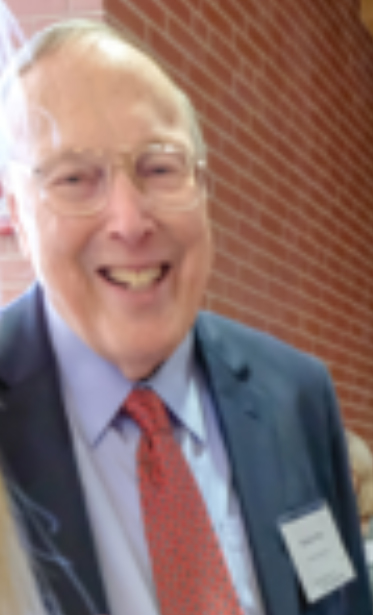 The last time I saw Bob Frey '60, he was talking with Gene and Carolyn Lausch (also members of the Indiana Central College class of 1960) a few minutes before the University of Indianapolis Donor Scholar lunch in April 2018. As Jamarcus Walker '20 and I joined this trio, Bob was talking about an action taken by the newly formed Student Court back in 1959, which was led by upper-class students (i.e. juniors and seniors). Bob was the president and Gene was a member of the court. At the time, the two of them were both "pre-law" students at ICC
The details of the case were not difficult to determine. A pair of sophomores (Dan Otto '62 and Larry Miller '62) had organized a prank with help from some friends. The pranksters sent various people on campus a written note that they were going to burn down "The Barn" – the old gymnasium built in 1921 that badly needed to be replaced. When President Esch learned about this "threat," he sent word around campus that this was a serious matter. Shortly thereafter, the two first-year students went to the president's home (at 2 a.m.) and confessed. As it happened, I had recently heard the story from Dan Otto's perspective about how relieved he and Larry were to be sentenced by the student court to "community service" on campus as opposed to being expelled.
Bob explained: "there is more to the story than what you have been told." This was one of the first cases of the recently formed student court, on which they both served. Bob, who had been the president of the court, described the process of adjudication as he remembered it. This occurred as the college's leadership began taking steps toward giving student leaders more responsibility for administering discipline. In retrospect, it was one significant step in the process of shift in away from the in loco parentis philosophy of student development.
The conversation continued. As I recall, Carolyn asked a question to clarify the outcome of the case. I described the version that I had heard from Dan Motto. Gene, who had been mulling the matter over, suggested a slight modification to that account. Bob listened thoughtfully, offered his sense of the matter, but also acknowledged that Gene might be right. After all, the memories in question went back almost six decades, and even in 1959 there were disagreements about what transpired. We all chuckled as we strolled into UIndy Hall where the Donor Scholar Luncheon was about to begin.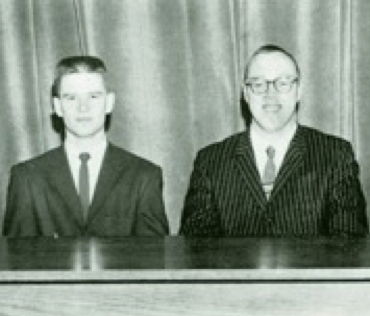 I remember thinking to myself that versions of this alumni conversation had occurred on other occasions. Not unlike the congenial way friends might trade observations as they appreciate a very good bottle of wine or a fine cup of coffee or tea.
**************
We are talking about the kind of enjoyment that arises from cherished friendship built around shared affections, the kind of dedicated love that we associate with that older sense of the word "amateur." Alumni love their alma maters. They don't necessarily want to analyze it like someone might look at a specimen under a microscope. The former can sometimes be protective of their heritage against the critical scrutiny of the trained historian. Robert Frey Ph.D managed to do both without confusing the two, which makes him unusual in today's world.
Robert Frey's Student Experience at ICC: 1956-1958
In Part Two (Misson Matters #51) of this set of narratives, I will introduce readers to Robert Frey the professional historian, but first I want to introduce you to his memories of his student experience at ICC. Consider the following excerpt from "Chapter 5 Undergraduate College Years (1956-1958)" –
"On September 6, 1956, Dad, Mother, Gordon Montgomery and I left Dayton for Indiana Central College in Indiana. The fact that we could get four adults and the college-bound belongings for both Gordon and me in the recently purchased Buick Century represented fairly the lack of material possessions college students had in those days. A portable radio, two typewriters, a briefcase, and a few other items were all we had in addition to our clothing."
"In the fall of 1956, an automobile trip from Dayton to Indianapolis utilized primarily U.S. Route 40—the National Highway. No interstate highways existed because the interstate highway system was only approved in that year. The trip of 115 miles took a solid three hours because of the many small towns encountered along the way. At first, we did not know any shortcuts through Indianapolis and that extended the time of the trip as well."
"When Gordon and I applied to Indiana Central we asked to be roommates. Thus when we arrived on campus he and I were assigned to a second-floor room in the west wing of the building and it faced to the north. The room was equipped with a bunk bed, a two-sided desk and two small dressers. The closet was no more than 3 feet wide. Nonetheless, we were able to get all of our belongings in the room comfortably. Gordon offered to take the top bunk at the outset. As I recall there was an understanding that we would trade off from time to time. We never did in the four years we roomed together Gordon always had the top bunk."
From these three paragraphs, readers can easily detect Frey's capacious memory, punctuated with detailed observations about the student experience on this campus in the late 1950s. In the paragraphs that follow, he describes his first days at Indiana Central, how he met lifelong friends such as Gene Lausch (who lived in the same dormitory) and Carolyn France (who was assigned to sit next to Bob at the required chapel sessions three times a week).
Frey also provides effective visual images of what the campus was like during his student years –
"The initial building was the main administration and classroom building during my student days – we called it simply the Administration Building, now called Good Hall. . . . housed the library, a snack bar, and student mailboxes. Located to the south of Hanna Avenue, the Administration Building had three story columns on the west-facing front of the building. For the first twenty years of the college's existence, this building housed the administrative offices, an auditorium, classrooms, the dining hall, and student lodging."
"In the early 1920s, a flurry of building activity led to the construction of the gymnasium immediately to the east of the Administration Building. Men's Hall to the east of the gym and a small observatory to the east of Men's Hall. To the north of Hanna Avenue, directly across the street from Men's Hall, was a large 'U-shaped' driveway. At the northern curve of the driveway was the woman's residence hall, Wilmore Hall, and about forty feet to the southwest was Dailey Hall. Dailey Hall was originally designed as a residence hall. During my freshman and sophomore years, it housed the dining room in its basement, several guest rooms, and a few offices. For the most part, however, the building was empty. To the northwest of Dailey were a number of World War II-era Quonset huts that were used for married student housing. The college also owned several apartment buildings used to house married students. Finally, to the south of the Administration Building was Buxton Hall, a rather small dormitory for upper-classmen."
"Since the newest building was thirty years old and since all the buildings had a minimum of preventive maintenance, they were 'showing their age.' The windows in our room had a great deal of 'play.' No matter how tightly we closed them during winter storms snow sifted around the frame to form a little bank of snow on the edge of the windowsill. The steam heating system was inconsistent. Sometimes it was much too hot, other times much too cold. The small lounge of Men's Hall had a three or four-year-old black and white television set. The basement had several large meeting or recreation rooms. There were no laundry facilities in the building. We dealt with this problem by sending our dirty clothes home in a specially designed aluminum laundry kit. With a bit of preplanning and a 'turnaround' of five days, we could avoid using a commercial laundry. But the cost of tuition, room, board, and fees was only $453 per semester."
In chapter five, Frey offers a detailed account of his first week at ICC, which included an outdoor matriculation ceremony that conveyed that "we were moving into a new world," where the "laws of the campus" included a prohibition on the consumption of alcohol as well as prescribed dress for various occasions. In the following paragraph, Frey recalled the social mores as they informed the schedule of the week.
"On Wednesday evenings and Sunday noons [sic] men were to wear dress shirts, dies, and coats to the dining room. Although men had no prescribed hours for being in the dormitories, women did . . . they had to be in the dorms by 7:30 or 8:00 each evening Sunday through Friday. On weekends the hours were more generous, perhaps 11:30 or midnight, but certainly no later. . . [during these] last years of colleges acting in loco parentis (in the place of parents)."
Part of the culture of Indiana Central then – as now at UIndy – was the way that students interacted with faculty. By the end of Freshman Orientation, Bob had met with his advisor, Dr. Kenneth St. Clair, who was the Chair of the History Department. As a pre-law major, Bob chose to major in history instead of pursuing the 3-3 cooperative law program with Indiana University School of Law. Prof. St. Clair was the person who had the greatest impact of Frey's intellectual development during his college years.
Frey also describes his encounters with professors who he found to be difficult. He had great respect for Prof. Sybil Weaver who taught English. He had no particular difficulty in her classes, but he struggled through the study of German under Prof. Marga Meier. Oddly enough, he scored high enough on a standardized test after one year to complete the foreign language competency requirement that was a feature of the liberal arts curriculum while he was a student.
Although he was not enrolled in the science track for pre-med students, Frey took classes from Dr. William Morgan '16 the faculty member that had the reputation of being the most demanding faculty member and the most difficult grader. When Bob accidentally broke a piece of laboratory equipment through inattentiveness during his first-semester biology course, he earned a sharp rebuke from Dr. Morgan. Having earlier been dubbed as "dumb" by the intimidating professor of biology, Bob's self-confidence rose considerably after Morgan displayed respect for his laboratory drawings in the Human Physiology course. Bob learned to "pay attention to detail, to strive toward perfection in my lab drawings, and to take pride in the quality of the work I did when I was at my best."
*************
Frey was not always happy at ICC. In fact, during his sophomore year, he actively considered leaving ICC. In part, this was due to the fact that he felt like an outsider. Despite the fact that he had various connections with members of the faculty, he did not think of himself as a Hoosier. Used to having his own room at home, Bob preferred to have a zone of privacy.
"Midwestern, particularly Indiana, culture was much different from Pennsylvania culture. . . The Pennsylvania culture was more formal and more private. . . . It was also more suspicious of people whom you did not know. Students from Indiana never met a stranger and were much more open. They also expected you to be just as open and to share your belongings with them."
Frey describes a couple of incidents in which his assumptions about personal property (e.g. the use of his typewriter) clashed with the cultural expectations of fellow residents in his dormitory. Eventually, Bob "tried to fit into the Indiana 'what's mine is yours' culture' but in doing so he would struggle such with the loss of his baseball catcher's mitt after lending it out to a guy he barely knew. In part because of these clashes of sensibility and culture, Frey often thought about transferring to one of the other EUB church-related colleges such as Albright College or North Central College.
In the end, he decided to stay at Indiana Central. Several factors played into the decision, including the development of friendships with fellow students, his budding intellect in the context of relationships with Indiana Central faculty. In retrospect, he thinks the period of six weeks that he and his family spent working with Hispanic children and families in New Mexico after his sophomore year was an important intercultural opportunity.
Robert Frey's Student Experience at ICC: 1958-1960
When Bob returned to ICC for his junior year, he had changed. His academic performance began to improve, and he became more focused in his studies, taking more courses in history. He took a class on Contemporary Social Movements taught by Marvin Henricks, a sociologist (and EUB minister), who became his favorite professor. Dr. Robert McBride, who was a philosopher (and also and EUB minister), intimidated Bob, but he took classes anyway. Frey was also impressed by a young historian named Frederick Hill, who he admired for his "masterfully prepared lectures with a tremendous amount of analysis worked in them." Along with his advisor, Kenneth St. Clair, who taught history, these men became Frey's "Big Four."
At the encouragement of his friend Gene Lausch, Bob joined the debate team at ICC. The pair teamed up for the greater part of three years, an experience that provided the opportunity for him to develop a sense of competence as well as to discover his talents. The epic road trip that Gene Lausch and Frey made during their senior year was another favorite memory that he recounts in chapter six of his autobiography. Bob ran for president of the Student Council. He didn't win, but he enjoyed the experience. He regarded the fellow who won that election, Ron Howard, as another lifelong friend.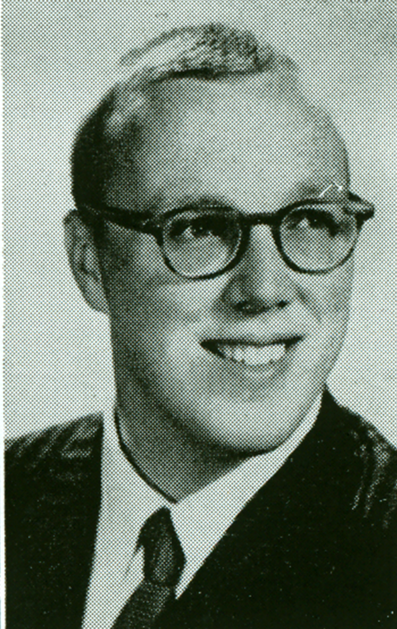 During his senior year, Bob – along with his peers – struggled to sort out whether he would go to law school after graduation. When graduation came in the spring of 1960, Bob recalled: "My plans for the fall were still not clear . . . What was to come?"
Although I haven't yet read Chapter Seven or any of the remaining chapters of Frey's autobiography, I assure interested readers that there is a positive outcome of the story. Unlike a few friends who were going to law school, especially his friend Gene, who he admired deeply, Robert Frey chose a different course when he enrolled in the Masters program in History at Penn State University. At the end of Frey's 45,000-word narrative (!) of his college experience, he wryly observes, "Over the years I have frequently referred to them as 'Days in the Garden of Eden' and joke that I enjoyed my undergraduate college days so much I decided to stay in college all my life."
Bob's self-deprecating joke makes sense to anyone who knows that stories of higher education always have a teleological sequence – a before as well as a during in route to the end – defined by the ceremonies of matriculation and graduation. And Frey would remind us that the part of the story that comes "after" is also very important for how we remember the "before" and "during" parts of the tale. He knew well that the transformation of lives in the journey that we know as higher education is a marvelous mystery that includes unexpected detours as well as patterns aren't always immediately obvious. Robert Frey became a college professor; he taught history to undergraduates in Virginia, Ohio and West Virginia.
Just as there is more to the story of the prank that led to the two freshmen being brought to the Judicial Council where upperclassman Bob Frey and Gene Lausch along with three other peers determined what discipline to recommend to President Esch, there is more to the story of Bob Frey's student experience during the late 1950s. For those who have the time and interest, I encourage you to read more from that the two chapters from Frey's autobiography that are now available through the Frederick D. Hill Archives at Krannert Memorial Library.
Meanwhile, those of us who gather for the 2019 Donor-Scholar Luncheon will miss Bob's genial laugh. If Gene Lausch '60 and Carolyn France Lausch '60 are present, I am sure they will join me in cherishing the memory of their dear friend and classmate Bob. We will savor the memories we share like some folks might enjoy fine wine.
*****************
In the next Mission Matters piece, I will provide an overview of Bob Frey's subsequent graduate study and professional achievements as an historian and college dean in the context of describing how his life reflects the mission of our university and Mission Matters #52 will focus on Bob Frey's final reflections about "What Can History Teach Us?" – an article that offered a retrospective about United Brethren and Evangelical Church splits of the 19th and 20th centuries for readers to consider as the 2019 General Conference of the United Methodist Church draws near.
As always, I invite your feedback at missionmatters@uindy.edu. In the meantime, thanks for taking the time to reflect with me.
Remember: UIndy's mission matters!