Christopher Schmidt presents talk on "Grave in the Road" Jan. 27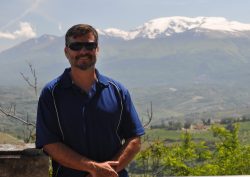 Christopher Schmidt, professor of anthropology, will present a talk at the Center for Inquiry Indiana at 6 p.m. on Sunday, Jan. 27, 2019, about the archaeological excavation of the so-called "Grave in the Road" site, near Franklin, Indiana. The Center is located at 350 Canal Walk, Suite A, Indianapolis.
The site, which is a well-known grave located in a makeshift median of County Road 400 S, was thought to contain the remains of one person named Nancy Kerlin Barnett.  By the end of the excavation, seven people were found.  At first, the excavation had several members of the public opposing the grave's removal.  But the careful and scientific methods that were employed helped the public see the respectful ways in which archaeologists work.  Eventually the site generated considerable public interest in the lifeways of people from 19th century Indiana.
Christopher W. Schmidt is professor of anthropology, director of the Bioarchaeology Laboratory, and director of the anthropology graduate program at the University of Indianapolis.  He received his Ph.D. in Anthropology from Purdue University in 1998.  He is a biological anthropologist primarily interested in the study of ancient diets via the analysis of teeth.  He is an active field archaeologist and has directed the excavation and repatriation of several pre-contact and historic period mortuary sites.  Dr. Schmidt has authored nearly 50 professional articles and book chapters and is co-editor of the book Analysis of Burned Human Remains 2nd Ed., as well as the forthcoming book Dental Wear in Evolutionary and Biocultural Contexts.  His research is supported by the National Science Foundation, the British Academy, the Marsden Fund (New Zealand), and the Indiana Academy of Science.