Caregiver Resource Group offers assistance to UIndy community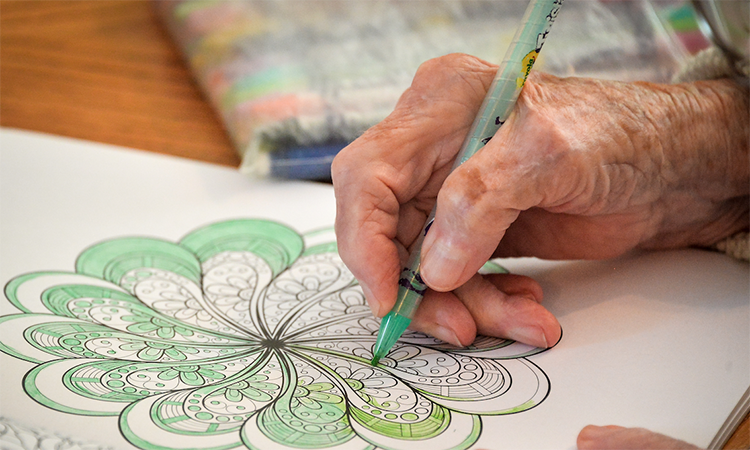 As Americans' life expectancy continues to expand, many Baby Boomers and adults in Generation X are finding themselves in a new role: caregiver.
"Statistically, one in two adults is a caregiver for a loved one or family member," said Amy Magan, Communications Manager in the Center for Aging & Community and College of Health Sciences. Magan sees a need for support often.
"The Center for Aging & Community (CAC) often gets phone calls or emails from faculty and staff who have questions related to their aging parents or other loved ones. Not everyone has a parent living in their home," said Magan, "but many people are caring for aging parents who are trying to live independently, for spouses who have an illness, or for loved ones who might be living in a nursing home or assisted living facility."
Regardless of the specific situation, human nature is based on connectedness, and adults caring for loved ones are building community at UIndy through the Caregiver Resource Group. The CRG meets on campus on the first Wednesday of every month. The format varies and sometimes includes a guest speaker or a facilitated discussion on a particular topic.
Open to UIndy faculty, staff, and students, this group is organized by CAC and facilitated by Joy's House, a local adult day center, which has a location behind the Health Pavilion.
"Most of the work done by CAC is focused on external customers," Magan said. "We decided this would be a way to make an impact on our own campus." Working in collaboration with Candace Preston, the director of caregiver support services at Joy's House, they launched the group meetings on a six-month trial basis.
At Joy's House, Preston uses her passion to help caregivers feel supported and encouraged by facilitating community caregiver groups, including the UIndy CRG.
"I've always had the view that family takes care of family, so my job fills my cup personally," Preston said. "I know the burdens that caregivers and families face are difficult and different in each case, but I enjoy helping to find relief."
"Having a group of co-workers come together to support one another brings a unique quality of camaraderie to the group," Preston said. "Because this group knows each other, even if just in passing, they seem to be more open and comfortable."
Dorella Phipps, who works in University Advancement, has been part of the group since the first meeting in July 2018. At the time, she was volunteering at Joy's House and taking a Liberal Studies capstone class to complete her bachelor's degree. She came to CRG as an academic exercise.
"Little did I know at the time, that the Caregiver Resource Group would benefit me personally in the coming months when my mother's health began to decline and she was diagnosed with dementia," said Phipps. "The group has provided me with the necessary resources to advocate for my mother's care." 
Jeanie Neal, director of grants and sponsored programs, values the community found in the group. "I don't have siblings to share caregiving responsibilities with," Neal said. "Simply walking into a meeting of other caregivers, hearing others express similar concerns, and gaining information I can actually use has lessened some of my stress through the realization that I'm not alone."   
The connections made during these monthly meetings has propelled the group's longevity past the six-month trial. The next step will be to apply for Affinity Group status with the Office of Inclusion and Diversity.
Magan observed that the CRG has "put a face on caregiving in our university community. We don't always know what's going on in someone's life off-campus. Knowing that there are others on campus in a similar situation helps people have someone to confide in or might encourage them to check in with someone else to see how they are handling a particular situation."
The UIndy Caregiver Resource Group meets on the first Wednesday of each month from noon to 1 pm in the President's Dining Room. Attendees are welcome to bring their lunch. CAC provides drinks and dessert. For more information, contact Amy Magan at amagan@uindy.edu.
Written by Olivia Horvath, OTD Class of 2020