Scholars Showcase: April 12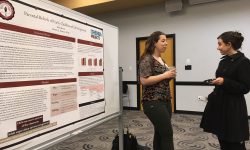 The University of Indianapolis is proud to host the first annual Scholars Showcase(formerly UIndy Scholars Day), which is a campus-wide event that highlights the scholastic accomplishments of undergraduate and graduate students and faculty from all colleges, units and departments across the UIndy campus.
Attendees will be able to experience poster sessions, oral presentations, round table discussions and performances to see what scholarship their fellow students and colleagues have been conducting over the past year. A free lunch will be provided.
You must register for this event by 11:59 p.m. on April 11, 2019 if you are presenting or plan to attend the event.
Learn more about Scholars Showcase 2019.
Please contact Erin Fekete at feketee@uindy.edu or Stephanie Combs-Miller at scombs@uindy.edu with questions.