Caitlynn Richardson '16 honored with Charlotte Boener Award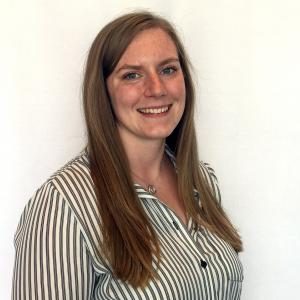 Caitlynn Richardson '16 is receiving the Charlotte Boener Award for Innovative Middle School Science Teaching at the Hoosier Association of Science Teachers, Inc. conference in February 2019. Richardson is a graduate of the Woodrow Wilson Teaching Fellows Program, now known as Teach (STEM)³ at the University of Indianapolis.  
Richardson graduated from Indiana University in 2015 with two bachelor's degrees in biology and political science, as well as minors in animal behavior and education. Serving as an advocate for teachers, she recently testified at the Indiana State Legislature on issues related to teacher compensation.
We caught up with Richardson to learn more about her recent achievements.
Q: Where have you worked since graduating from UIndy?
A: During the program, I received an offer to work at Chapel Hill 7th & 8th Grade Center in the Metropolitan School District of Wayne Township and I have worked there ever since. I teach seventh and eighth-grade science, depending on what year it is.
Q: How does it feel to have your work recognized with the Charlotte Boener award?
A: I'm very appreciative of the recognition! My mentor from my Master of Arts in Teaching (MAT) program nominated me this year after seeing a few project-based learning units I had designed. I am thankful that she took the time to share my work with other educators.
Q: How did UIndy's School of Education program prepare you for your career?
A: The program gave me tools and resources that were vital to a first-year teacher, including frequent meetings with my mentor, numerous lesson plans and materials ready to implement in my classroom, plus digital resources I could use to change things up. As a new teacher, accumulating as many resources as possible really helps balance out the stress of everything else you're trying to learn. The information presented in my classes was able to be used directly in my practice, and I can't be more thankful to UIndy for all I learned at my time there.
Q: Was there anyone at UIndy who helped you along the way?
A: I could easily list all of my professors in the program! Every single one helped me in some way. I'm especially thankful for Deb Sachs, Jean Lee and Carol Chen. Deb and Jean put their hearts into the program and make sure each of their students is as successful as possible. They are able to see the best in you and push you to the best of your abilities, even when you doubt yourself. Carol was my mentor teacher during the program and she has been one of my biggest supporters throughout the program and in the first years of my teaching career. I also should give a big shout out to my husband, Todd, because he is the reason I applied to the MAT program in the first place. I was pretty lost as to what I wanted to do my senior year of college, and he helped me realize that teaching was the path for me.
Q: You recently testified on behalf of teacher compensation and other issues during a House Education Committee meeting at the Indiana legislature – why did you decide to get involved?
A: My superintendent sent out e-mails about a program called the Teach Plus Policy Fellowship, which is a program devoted to empowering teachers to take leadership over policies that will directly affect students. I applied last year and was accepted into the year-long fellowship this school year. I have a background in political science, and I was very interested in the opportunity to learn more about how education policies are designed. I also wanted to have a more active role in making these decisions as a professional in my field.
Q: What would you like lawmakers and the general public to understand about the issues teachers face and how that affects children's education?
A: Before I became a teacher, I was unaware of the small, but important, things that can completely change a classroom as well as a child's experience in public school. Through my work with Teach Plus, I have been able to share my experience with teacher preparation with legislators in regards to HB 1009. This bill proposes to have a one-year residency for teacher prep programs, similar to what I experienced at UIndy. I encourage lawmakers and the general public to reach out to teachers and ask them questions. I love our profession, and I know most teachers do as well. We would be more than willing to share our stories to help foster understanding of best practices in education and what would improve the field.
Q: How did your program at UIndy prepare or encourage you to advocate for teachers?
A: Part of the program was learning and implementing research-based best practices. Knowing the research behind the practices helps me push for resources and policies that support teachers as they try to provide the best education possible for their students. For instance, research shows that project-based learning helps students develop a deeper understanding of knowledge while simultaneously learning necessary 21st-century skills like collaboration and critical thinking.
Q: Anything else you want to add?
A: I encourage anyone who is considering education as a major to reach out and speak with the professors in UIndy's School of Education. They are experts in their field, and they will help in any way they can. Sometimes there is a lot of negativity surrounding the teaching field, but it is an absolutely rewarding and meaningful career that I truly enjoy doing. Watching students engage, understand, and enjoy content has no parallel! I am thankful to have the opportunity to share my love of science with young minds, and it is my hope that they begin to love it too before they leave my class.