Tom Keesee combines ancient and modern in "Drawings from Rome"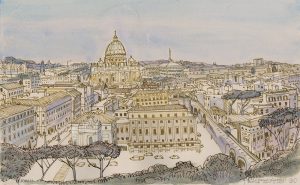 Rome was once the capital of the art world, and the Italian city is behind the inspiration for a new exhibition, "Drawings from Rome," by Fort Wayne-based artist Tom Keesee. An opening reception is scheduled from 4 to 6 p.m. on Monday, Feb. 18, 2019, at the Christel DeHaan Fine Arts Center Gallery, and the exhibition, which is free and open to the public, will be on display through March 15.
Tom Keesee is a plein-air artist specializing in landscapes and travel. His fascination with Rome ties in closely with the city's beauty as well as its place in art history. Hundreds of years ago, "Rome was where all artists had to go if they wanted to be successful," Keesee explained.

Keesee's work has always drawn him to what he calls sublime or awesome subject matter. 
"I've always been interested in the idea of grandeur, and you just can't get much more grand than Rome," he said.
The drawings from Rome combine ancient monuments, 16th-century baroque and the modern, which Keesee says is intentional. "No matter where you go, even the ancient sites, modern life is all around. That's the subject matter I tried to put in those drawings," he said.
Keesee works on location to create pencil sketches, then later applies ink and watercolor to complete his compositions—a practice borrowed from 19th-century painters. The exhibition features a variety of architectural landmarks and everyday street scenes, providing a rare glimpse into the artist's working process.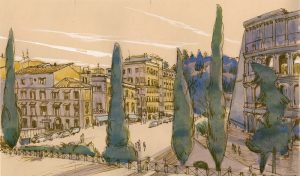 Keesee borrows the procedure of beginning his sketches on location partly as an homage to art history, and partly out of convenience.
"Artists always had to carry everything. That's a long tradition. The more you carry with you, the harder it is to get around. That's a big part of it, being able to produce a lot of work and then coming back to finish it over time," he said.
The exhibition also includes five of Keesee's landscape paintings in oil. He said the process for creating his artwork varies from the quiet nature preserves that inspire the landscapes to the bustling city streets of Rome. He appreciates the opportunity to chat with people from all over the world when he works in public.

"It's taken me a long time to become comfortable with working in front of the public, but a lot of people come by," he said. "It's amazing how many people you meet from all corners of the world."
Keesee encourages his audience to interact with the art by filling in some of the details as they view his images. While his goal is to draw accurately with regards to proportion and perspective, he deliberately leaves some of the architectural details less defined.

"I'm wanting the audience to become an active participant in the piece, and, either through memory or imagination, to complete the drawing. That's a big part of it," he said.